Details: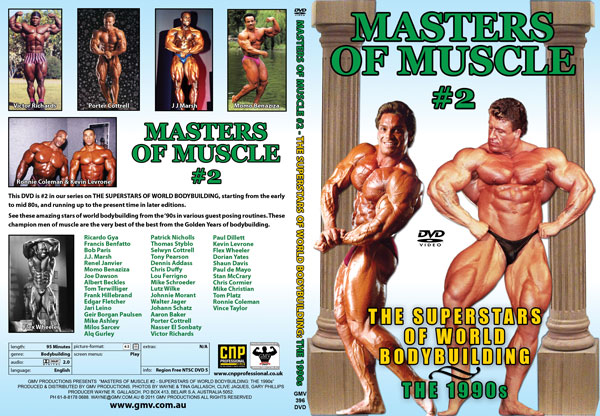 MASTERS OF MUSCLE #2: The Superstars of World Bodybuilding - The 1990s
This DVD is #2 in our Legends series on THE SUPERSTARS OF WORLD BODYBUILDING, starting from the early to mid 80s, and running up to the present time in later editions.
See this huge array of amazing stars of world bodybuilding from the '90s in various guest posing routines. These champion men of muscle are the very best of the best from the Golden Years of bodybuilding. Our biggest dilemma was "who to put on the cover" in that we have too many champions in one DVD!! (Front cover left to right: Rich Gaspari and Dorian Yates)
THE STARS:
Here is the list of champions in #2 which includes many Mr. Olympia and Mr. Universe winners and competitors - listed in the approximate order seen:

Ricardo Gya
Francis Benfatto
Bob Paris
J.J. Marsh
Renel Janvier
Momo Benaziza
Joe Dawson
Albert Beckles
Tom Terwilliger
Frank Hillebrand
Edgar Fletcher
Jari Leino
Geir Borgan Paulsen
Mike Ashley
Milos Sarcev
Alq Gurley
Patrick Nicholls
Thomas Styblo
Selwyn Cottrell
Tony Pearson
Dennis Addass
Chris Duffy
Lou Ferrigno
Mike Schroeder
Lutz Wilke
Johnnie Morant
Walter Jager
Johann Schatz
Aaron Baker
Porter Cottrell
Nasser El Sonbaty
Victor Richards
Paul Dillett
Kevin Levrone
Flex Wheeler
Dorian Yates
Shaun Davis
Paul DeMayo
Stan "Curley Top" McCrary
Chris Cormier
Mike Christian
Tom Platz
Ronnie Coleman
Vince Taylor
Rich Gaspari
Photos by Wayne & Tina Gallasch, Clive Jaques, Gary Phillips


Running Time: 102 mins

* Available in NTSC DVD Only (Region Free)
* THIS DVD WILL PLAY ON ANY DUAL SYSTEM NTSC / PAL DVD PLAYER AND TV. Or any PC DVD.