Details: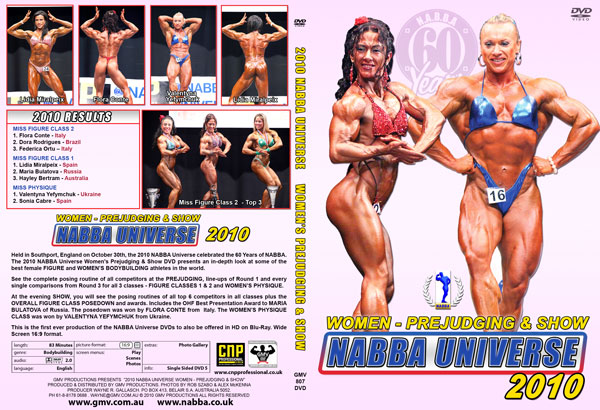 2010 NABBA UNIVERSE: THE WOMEN - PREJUDGING & SHOW
Held in Southport, England on October 30th, the 2010 NABBA Universe celebrated the 60 Years of NABBA. The 2010 NABBA Universe Women's Prejudging & Show brings you the complete NABBA Universe event for women.
This DVD presents an in-depth look at some of the best FIGURE and WOMEN'S PHYSIQUE athletes in the world.
See the complete posing routine of all competitors at the PREJUDGING, line-ups of Round 1 and every single comparisons from Round 3 for all 3 classes - FIGURE CLASSES 1 & 2 and WOMEN'S PHYSIQUE.
At the evening SHOW, you will see the posing routines of all top 6 competitors in all classes, plus the OVERALL FIGURE CLASS POSEDOWN and awards. Includes the OHF Best Presentation Award to MARIA BULATOVA of Russia.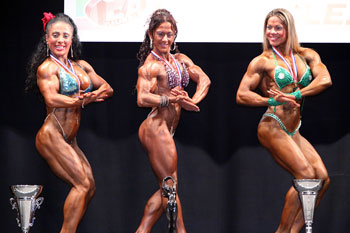 The OVERALL MISS FIGURE UNIVERSE posedown was won by FLORA CONTE - Italy from Class 1 winner Lidia Miralpeix - Spain.
The WOMEN'S PHYSIQUE CLASS was won by VALENTYNA YEFYMCHUK from Ukraine.
The 2010 Universe was preceded on the Friday night by the 60th ANNIVERSARY NABBA UNIVERSE DINNER, GMV-800DVD, and was presented by Bryan Robinson, Michael Sullivan, Tony Sullivan and Dave Wright.
They proudly dedicated this special evening to the many great athletes who have made NABBA #1 and the NABBA Universe the greatest bodybuilding event in the world.
EXTRA FEATURES:
Photo Gallery
PHOTOGRAPHERS
Rob Szabo
Alex McKenna – The Beef
2010 NABBA Universe - Women's Complete Results
Southport, England October 30th, 2010
Celebrated as the 60th Year of NABBA: 1950-2010
THE WOMEN
MISS FIGURE CLASS 2
1 Flora Conte - Italy (Flora is pictured top right and top 3 Class 2 at the bottom)
2 Dora Rodrigues - Brazil
3 Federica Ortu - Italy
4 Silvana Imbrogno - UK
5 Linda Gartside - UK
6 Olga Prokopenko - Ukraine
7 Laura Irving - UK (Scotland)

MISS FIGURE CLASS 1
1 Lidia Miralpeix - Spain (pictured in bottom 2 photos, front and rear double biceps)
2 Maria Bulatova - Russia
3 Hayley Bertram - Australia
4 Delene Watkins - South Africa
5 Joanne Sperring - UK
6 Ira Mayan - Israel

not placed
Danielle Findlay - UK
Olga Kourkoulin - Israel

MISS PHYSIQUE
1 Valentyna Yefymchuk - Ukraine (pictured 2nd right)
2 Sonia Cabre - Spain
OVERALL WINNERS
Overall Miss Figure Universe: Flora Conte - Italy
OHF Women's Best Presentation Award - Maria Bulatova - Russia



Running Time: 85 mins

* Available in NTSC DVD Only (Region Free)
* THIS DVD WILL PLAY ON ANY DUAL SYSTEM NTSC / PAL DVD PLAYER AND TV. Or any PC DVD.