Details: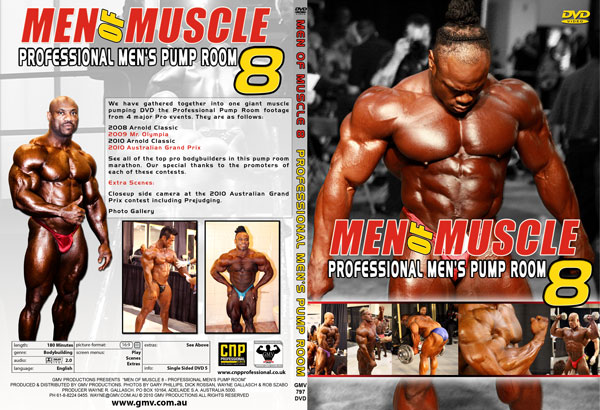 MEN OF MUSCLE # 8 - PROFESSIONAL MEN'S PUMP ROOM
We have gathered together into one giant muscle pumping DVD the Professional Pump Room footage from 4 major Pro events. Never have we seen so much pumping in one massive DVD.

The 4 events are as follows:

* 2008 Arnold Classic
* 2009 Mr. Olympia
* 2010 Arnold Classic
* 2010 Australian Grand Prix

Feel all of the tension, see the sweat mixed with oil as the guys prepare to hit the stage - be it for the Prejudging or for the Finals.

We take you from USA to Australia is our quest to capture the best pump room action footage ever offered by us in this Mega Pump Special.
See MORE ACTION! MORE PUMPING! MORE CLOSE UPS THAN EVER BEFORE!!!

Names include:

Dexter Jackson
Phil Heath
Kai Greene
Branch Warren
Silvio Samuel
Gustavo Badell
Jay Cutler
Victor Martinez
Ronny Rockel
Toney Freeman
Hidetada Yamagishi
Roelly Winklaar
Michael Kefalianos
Melvin Anthony
Grigori Atoyan
and many more of your favorite top professional bodybuilders, pumping up and oiling.
See all of the top pro bodybuilders from these contests in this pump room marathon.

Our special thanks to the promoters of each of these contests.

Extra Scenes:
Closeup side camera at the 2010 Australian Grand Prix contest including Prejudging & Finals.
Photo Gallery
Photographers:
Gary Phillips
Dick Rossan
Wayne Gallasch



Running Time: 180 mins

* Available in NTSC DVD Only (Region Free)
* THIS DVD WILL PLAY ON ANY DUAL SYSTEM NTSC / PAL DVD PLAYER AND TV. Or any PC DVD.