Details: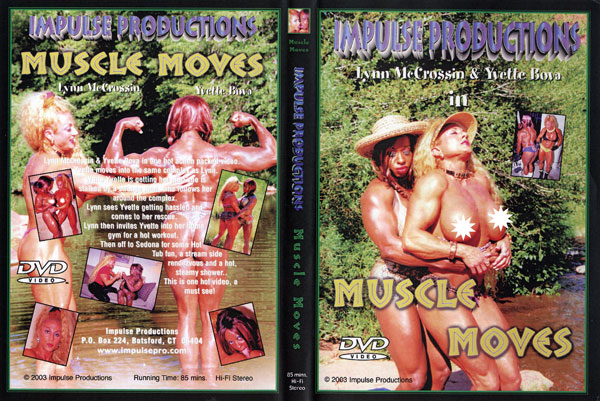 Lynn McCrossin & Yvette Bova in "Muscle Moves"
CAUTION: You must over 18 to purchase this DVD as it contains content of an adult nature.
See star bodybuilders Lynn McCrossin and Yvette Bova in one hot and steamy DVD. Both women were in outstanding condition at the time of this production. Yvette has just moved into a new condo complex and is being harassed by a strange man who is stalking her.
Lynn is working out in her gym and hears all the commotion and comes to Yvette's rescue. A friendship is immediately born and Lynn Invites Yvette into her Gym for a hot steamy workout.
Then they both head up to Sedona for a wild weekend of fun. Yvette has no idea what Lynn has planned but it definitely includes her!
A hot tub, a picnic in the mountains a hot steamy shower and more are in store!
This is a "must have" DVD if you appreciate big, bold, buff women bodybuilders.
The DVD Includes Impulse Extras!
Over 100 Photos, and a deleted scene not shown on the original video release!!
This DVD is HOT! HOT! HOT!
DVD PACKING
All our DVDs are sent in the plain white padded bags marked as GIFT. Hand addressed and with no GAMM logos or stickers on them. We always keep our packaging as low profile as possible to help ensure your privacy.

Running Time: 95 mins

* Available in NTSC DVD Only (Region Free)
* THIS DVD WILL PLAY ON ANY DUAL SYSTEM NTSC / PAL DVD PLAYER AND TV. Or any PC DVD.