Details: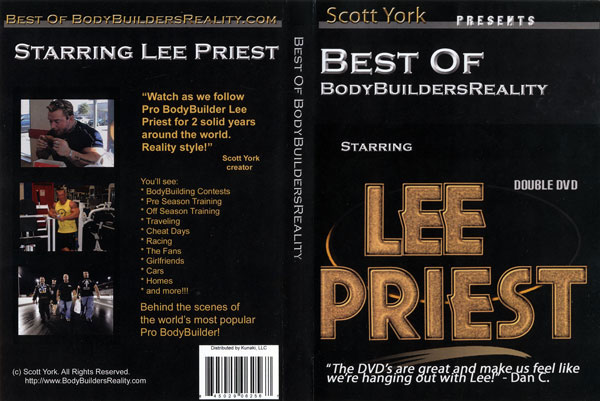 Lee Priest - Best of Bodybuilders Reality Series 2 DVD Set.
In 2006, BodybuildersReality grabbed their video camera and took on the entertaining challenge of following the world's most popular pro bodybuilder, Lee Priest.
The journey started in Texas and took them to such exotic places as Brazil, Alaska, Australia and Europe where Lee was treated like a rock star while competing in pro bodybuilding shows, putting on posing exhibitions, seminars and guest appearances.
Nothing like this had ever been done before! They captured what turned out to be a very pivotal time in Lee's career.
During the 2 years of filming, here is a short list of what occurred:
Competing in the IFBB at numerous contests.
Being banned from the IFBB for "inappropriate behavior"!
Lee thumbing his nose at the IFBB and joining the fledgling PDI. Was this a mistake or not?
Emergency room visits for a shoulder infection and shortly after an emergency root canal!
Owning a 750 horsepower Mustang GT!
Hellacious pre-contest workouts!
Getting a tattoo…on his face!
Getting a tattoo on his entire back!
Magazine photo shoots.
Former fiancee, Adela Garcia!
Birthdays gone wrong!
Trips to Southern California for professional drag racing events – Lee was SCEDA's rookie of the year!
Visits to Venice, California!
Eating at the famous Firehouse Restaurant.
Workout partners: Bruce, Richard, Ed, and fellow pro, Rusty Jeffers from Arizona!
This is not just another typical "workout DVD" or "this is what I eat" type of generic video. This is the revealing, sometimes startling, but always entertaining life of the most controversial and popular pro bodybuilder on the planet!
After going through 100 plus hours of footage in this 2 year project called BodyBuildersReality starring Lee Priest, the producer has created a double DVD with all of the best moments! A DVD like nothing ever seen before!!
It's 2 hours of training mayhem (pre-contest and off-season), cheat days at KFC, racing in the Twinlab dragster, hanging out backstage, competing in the PDI and IFBB, traveling the world, guest appearances, jokes, and more! This is typical, unique LEE PRIEST at his best, in all of the best scenes he recorded.
You'll laugh, you'll be shocked, you might be offended, you may cry - but you'll never be BORED! Buy it now, and sometime next week you'll be laughing your ass off with Lee Priest, the Aussie Superstar of bodybuilding.



Running Time: 120 mins

* Available in NTSC DVD Only (Region Free)
* THIS DVD WILL PLAY ON ANY DUAL SYSTEM NTSC / PAL DVD PLAYER AND TV. Or any PC DVD.