Details:


Jay Cutler - The Ultimate Beef: A Massive Life in Bodybuilding - 2 disc set
Seminars and Contest History - 2 DVD set of 7 hours.
Including contest highlights, pumping, posing, back stage pump room, tanning, training segments licensed from Mocvideo, guest posing, interviews, huge photo gallery & more.
This mega DVD set of 7 hours traces the career of Jay Cutler from his teenage years through to his 2009 Mr. Olympia victory. At the time of release, Jay Cutler is a 3 time Mr. Olympia winner and a 3 time winner of the Arnold Classic.
With footage mostly from our copyright archives and short additional licensed segments, this massive personal history of Jay traces his career in contest posing highlights, prejudging comparisons, backstage pumping and oiling, brief interviews, guest posing, seminars, informal posing, some training segments and contest photos.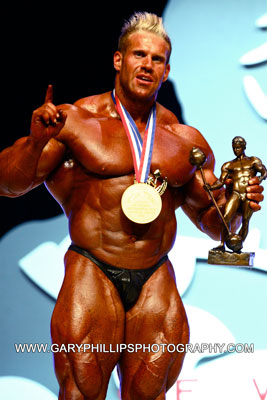 This is the Ultimate Beef DVD set showcasing the "CUT MAN" – JAY CUTLER.
Much of this footage has never been seen before. This DVD set is a tribute to one of the greatest and most popular bodybuilders of all time.

This massive 2 disc set also includes a huge PHOTO GALLERY. It has been 17 years in the making, shooting and gathering of material, and 4 months of editing.
Disc #1 – The Seminars & informal posing:
3 separate seminars from the LA FitExpo 2004, 2007 & 2008.
Photo Gallery.
RT: 3 hours 15 mins
Disc #2 – Contest History, pumping, posing, training, brief interviews and more.
RT: 3 hours 45 mins
TRT: 7 hours (420 mins)
The DVD concludes with a complete contest history of Jay's career to date.
Please click here to see his CONTEST HISTORY and a bio.
Extra notes on key contents:

Disc #1:
Learn some of Jay's "secrets" in this informative and in-depth seminar footage shot with one of the world's greatest champions.
3 intense seminars packed with info leading up to Jay's first Olympia victory in 2006 and more during his years of greatest success. Hear about his training routines, weights and exercises used, what he eats, drinks, contest preparation and much more. No question is dodged. You will see the growth of Jay as a superstar during these seminars over a 4 year period. Includes some informal posing.
Disc #2:
This footage includes contest highlights, pumping, posing, back stage pump room, tanning, training segments licensed from Mocvideo, guest posing, interviews, huge photo gallery & more.
Some of the Highlights include:
1999 Iron Man 3rd place
1999 FIBO and our first ever interview with Jay
1999 & 2000 - our backstage Olympia footage
2000 English Grand Prix and his battle with Ronnie Coleman
2001 Iron Man interview with Lonnie, & informal poses
2001 FIBO guest posing
2001 Olympia scenes mostly backstage
2002 at the Arnold Classic, all footage shot by GMV
2003 winning the Iron Man Pro
2003 & 2004 Mr. Olympia Pump Room and behind the scenes
2003 winning the English Grand prix and all scenes with Jay
2006 winning the Austrian Grand Prix
2009 Mr. Olympia posing and highlights including backstage PR
Photographers:
Clive Jaques
Richard Rossan
Gary Phillips – garyphillipsphotography.com
Courtesy Iron Man
Wayne & Tina Gallasch
Special Thanks:
The LA FitExpo – Erin Ferries
Jay Cutler
Bruce Lester & Mocvideo
Weider/Flex Magazine/Mr. Olympia LLC - Robin Chang
Magna Media International/IFBBTV – Andy Olson
Arnoldsportsfestival.com
Iron Man
Richard Rossan
Eibon Films – Timo Sorger
Video Action
Jon Lindsay
Steve O'Brien
Wayne DeMilia
Fibo – Willy Zdenek
Kerry Kayes and all those who contributed to this project.



Running Time: 420 mins

* Available in NTSC DVD Only (Region Free)
* THIS DVD WILL PLAY ON ANY DUAL SYSTEM NTSC / PAL DVD PLAYER AND TV. Or any PC DVD.