Details: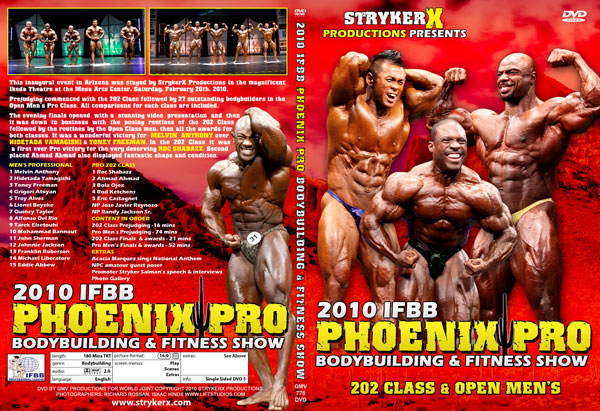 2010 IFBB PHOENIX PRO: 202 Class & Open Men's Bodybuilding
Presented by StrykerX Productions
As part of the 2010 IFBB PHOENIX PRO BODYBUILDING & FITNESS SHOW
Ikeda Theatre
Mesa Arts Center
Mesa, Arizona
Saturday, February 20th, 2010
PREJUDGING & FINALS
This inaugural Stryker Pro event in Arizona was staged by StrykerX Productions in the magnificent Ikeda Theatre at the Mesa Arts Center. It was presented in front of a large and appreciative audience.
Prejudging commenced with the 202 Class followed by the prejudging of 27 outstanding bodybuilders in the Open Men's Pro Class. All comparisons for each class are included in the DVD.
The evening finals soon got down to business with the posing routines of the 202 Class followed by the routines by the Open Class men, followed by all the awards for both classes.
It was a wonderful victory for MELVIN ANTHONY over HIDETADA YAMAGISHI with TONEY FREEMAN in third place.
In the 202 Class it was a first ever Pro victory for the very deserving ROC SHABAZZ. Second placed Ahmad Ahmad also displayed fantastic shape and great condition.
The Results:
OPEN MEN'S PROFESSIONAL
1 Melvin Anthony
2 Hidetada Yamagishi
3 Toney Freeman
4 Grigori Atoyan
5 Troy Alves
6 Lionel Beyeke
7 Quincy Taylor
8 Alfonso Del Rio
9 Tarek Elsetouhi
10 Mohammad Bannout
11 John Sherman
12 Johnnie Jackson
13 Franklin Roberson
14 Michael Liberatore
15 Eddie Abbew
16 Adorthus Cherry
16 Andy Haman
16 Cesar Mendible-Baptista
16 Constantinos Demetriou
16 Daniel Hill
16 DeShaun Grimez
16 Gus Carter
16 Heinz Senior
16 Oliver Adzievski
16 Omar Deckard
16 Stan Efferding
16 Rusty Jeffers
PRO 202 CLASS
1 Roc Shabazz
2 Ahmad Ahmad
3 Bola Ojex
4 Rod Ketchens
5 Eric Castagnet
NP Jose Javier Reynoso
NP Randy Jackson Sr.
DVD Content in order:
202 Class Prejudging - 16 mins
Pro Men's Prejudging - 74 mins
202 Class Finals and awards - 21 mins
Pro Men's Finals and awards - 52 mins
Extra Scenes:
Acacia Marquez sings the National Anthem
NPC amateur guest poser
Promoter Stryker Salman's speeches & interviews
Photo Gallery
Format:
A Wide Screen 16:9 production shot on HDV.
Photographers:
Richard Rossan
Isaac Hinds



Running Time: 180 mins

* Available in NTSC DVD Only (Region Free)
* THIS DVD WILL PLAY ON ANY DUAL SYSTEM NTSC / PAL DVD PLAYER AND TV. Or any PC DVD.