Details: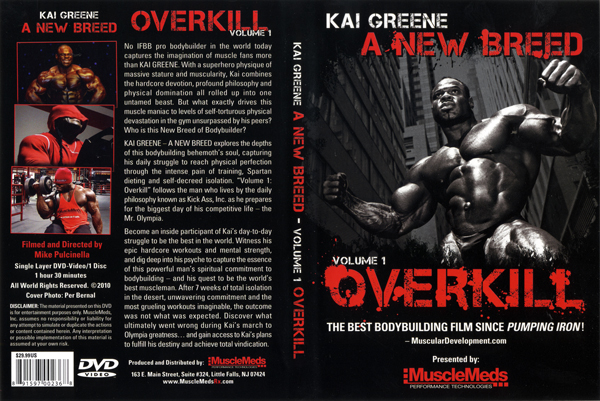 Kai Greene – A New Breed – Vol. 1 Overkill
2009/2010 ARNOLD CHAMP KAI GREENE IS THE FEATURED STAR OF THE NEW OVERKILL DVD!
Coming off the successful defense of both his Arnold Classic and Australian Pro titles, IFBB star Kai Greene is proud to announce the worldwide release of his first body-building documentary film OVERKILL, now available on DVD. Filmed as part of the groundbreaking KAI GREENE – A NEW BREED DVD trilogy, OVERKILL introduces the most enigmatic and charismatic bodybuilder in the world today, and tracks his inspirational and torturous preparation for the 2009 Mr. Olympia competition.
No IFBB pro bodybuilder in the world today captures the imagination of muscle fans more than Kai Greene.
With a superhero physique of massive stature and muscularity, Kai combines hardcore devotion, profound philosophy and physical domination – all rolled up into one untamed beast.
But what exactly drives this muscle maniac to levels of self-torturous physical devastation in the gym unsurpassed by his peers? Who is this New Breed of Bodybuilder?
OVERKILL explores the depths of this bodybuilding behemoth's soul, capturing his daily struggle to reach physical perfection through the intense pain of training, Spartan dieting and self-decreed isolation.
The amazing film documentary follows the man who lives by the daily philosophy known as "Kick Ass, Inc." as he prepares for the biggest day of his competitive life – the Mr. Olympia.
Become an inside participant of Kai's day-to-day struggle to be the best in the world.
Witness his epic hardcore workouts and mental strength.
Dig deep into his psyche to capture the essence of this powerful man's spiritual commitment to bodybuilding – and his quest to be the world's best muscleman.
Yet after 7 weeks of total isolation in the desert, total unwavering commitment and the most grueling workouts imaginable, the outcome was not what was expected.
Discover what ultimately went wrong during Kai's march to Olympia greatness . . . and gain access to Kai's plans to fulfill his destiny and achieve total vindication at the 2010 Olympia, much like what's come to pass in his Arnold Classic and Australian Pro title defenses.
OVERKILL is a bodybuilding epic for the ages! Filmed and directed by Mike Pulcinella.


Running Time: 90 mins

* Available in NTSC DVD Only (Region Free)
* THIS DVD WILL PLAY ON ANY DUAL SYSTEM NTSC / PAL DVD PLAYER AND TV. Or any PC DVD.