Details: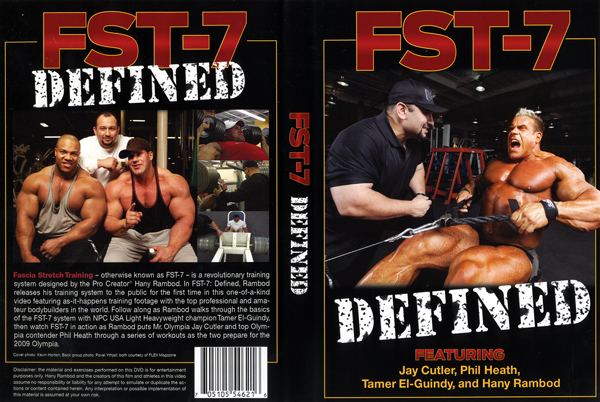 Hany Rambod's - FST-7: Defined: Featuring Jay Cutler & Phil Heath
Fascia Stretch Training - otherwise known as FST-7 - is a revolutionary training system designed by the Pro Creator Hany Rambod. In FST-7: Defined, Rambod releases his training system to the public for the first time in this one-of-a-kind DVD featuring as-it-happens training footage with the top professional and amateur bodybuilders in the world.
Follow along as Rambod walks through the basics of the FST-7 system with NPC USA Light Heavyweight champion Tamer EI-Guindy then watch FST-7 in action as Rambod puts three time Mr. Olympia Jay Cutler and top Olympia contender Phil Heath through a series of workouts as the two prepare for the 2009 Olympia.
If you are an FST-7 follower and you don't have this DVD already, get it. If you are considering using FST-7 in your own training program, get this DVD and watch it before you do. You will be ahead of the learning curve doing so.
I have been using FST-7 for the past few months and I learned a lot from the movie. If you are fan of Tamer El-Guindy, Phil Heath, or the now three time Mr. Olympia Jay Cutler, or just a bodybuilding fan in general, get this DVD.
After watching it, you will be motivated to hit the gym to put into practice what you learned. You will also know why Jay Cutler was able to become the first bodybuilder in history to reclaim the Mr. Olympia after losing it and why Phil Heath was able to finish 5th despite having food poisoning the morning of prejudging.
Thanks to Hany Rambod.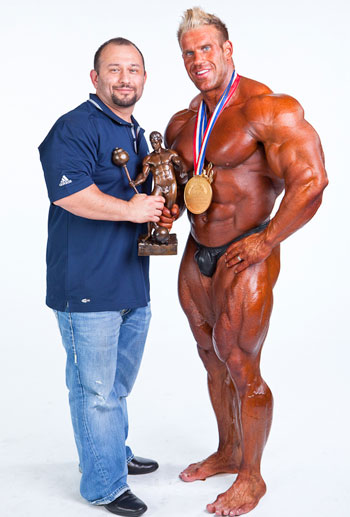 Hany Rambod and 2009 IFBB Mr Olympia Jay Cutler.



Running Time: 95 mins

* Available in NTSC DVD Only (Region Free)
* THIS DVD WILL PLAY ON ANY DUAL SYSTEM NTSC / PAL DVD PLAYER AND TV. Or any PC DVD.