Details: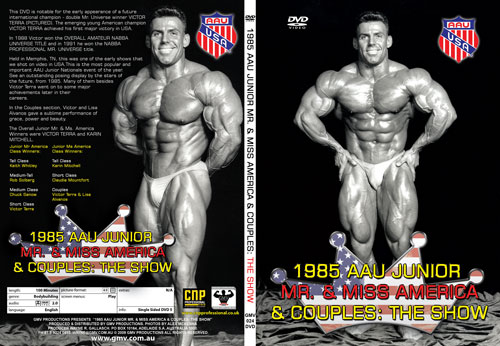 1985 AAU Junior Mr. & Miss America & Couples: The Show

This DVD is notable for the early appearance of a future international champion - double Mr. Universe winner VICTOR TERRA. The emerging young American champion VICTOR TERRA achieved his first major victory in USA. In 1988 Victor won the OVERALL AMATEUR NABBA UNIVERSE TITLE. Held in Memphis, TN, this was one of the early shows that Wayne shot on video in USA. This is the most popular and important AAU Junior Nationals event of the year. See an outstanding posing display by the stars of the future, back in 1985. Many of them besides Victor Terra went on to some major achievements later in their careers.

In the Couples section, Victor and Lisa Alvanos gave a sublime performance of grace, power and beauty.

The Overall Winners were VICTOR TERRA and KARIN MITCHELL. Both were very worthy champions.

1985 AAU Junior Mr America Results
Memphis, Tennessee
Overall Winner: Victor Terra pictured above.

Overall Junior Mr. America Winner: Victor Terra

Tall Class
1 Keith Whitley
2 Matt Small
3 David McGee
4 Al Ortiz
5 Keith Shaw

Medium-Tall
1 Rob Solberg
2 Ron Coleman
3 Ted Lopes
4 Bruce Quinn
5 Tyrone Felder

Medium Class
1 Chuck Sanow
2 Skip Robinson
3 Mark Miller
4 Joey Bastone
5 Lance Humphrey

Short Class
1 Victor Terra
2 Jay Harris
3 Carmen Cascio
4 Greg Tuck
5 Val Vallese

1985 AAU Junior Miss America

Overall Winner: Karin Mitchell

Tall Class
1 Karin Mitchell
2 Francoise Holtsclaw
3 Colleen Flaherty
4 Katherine Thomason
5 Pamela Forte

Short Class
1 Claudia Mountfort
2 Sheritha McKenzie
3 Lisa Alvanos
4 Laquita Simmons

Couples Winners
Victor Terra & Lisa Alvanos

Running Time: 100 mins

* Available in NTSC DVD Only (Region Free)
* THIS DVD WILL PLAY ON ANY DUAL SYSTEM NTSC / PAL DVD PLAYER AND TV. Or any PC DVD.