Details: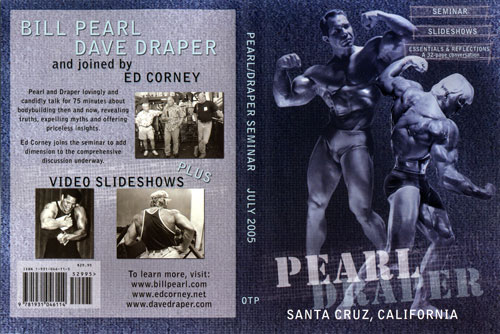 Bill Pearl & Dave Draper Seminar
75 minutes of Bill Pearl and Dave Draper answering a broad range of questions from IronOnline Bash attendees, and a dozen minutes with Ed Corney as he joins in the conversation for the fun of it. Three cameras captured this one-time event for the history books -- this is a DVD you'll watch again and again!
Two muscular slide shows are included on the DVD, plus a 32-page booklet ( each booklet has been personally signed by Dave Draper ) of a subsequent private conversation between Bill and Dave during which they discuss some favorite subjects untouched in the seminar.

Bill Pearl and Dave Draper erected the pillars of Hercules decades ago, and no one, not even petulant progress and the sport's modern supercelebrities, has been able to go beyond. Who could? Pearl and Draper are the liver and lights of bodybuilding. Their physiques have been envied for more than 40 years, but their wisdom, knowledge, character, passion and principles are what impel us to sit raptly at their feet, keep our mouths shut, and listen eagerly for hours to their every revelation.
Pearl/Draper is a joint seminar the two held at Dave Draper's Santa Cruz, California, gym, and it's surely the most compelling and valuable bodybuilding DVD ever. Come, now, what more could you ask? In the midst of a packed house of idolaters, who are literally hanging from the rafters and draped over railings, Pearl and Draper stand bowling-ball shoulder to bowling-ball shoulder, sharing their perspectives on "bodybuilding then and now, revealing truths, expelling myths and offering priceless insights" to all who ask.
So rich and profound is the content that, when the 75-minute DVD ends, one feels he's lived a lifetime with these legends. No one, or 20, could have done it better, and the exclamation point to it all comes when revivified Ed Corney joins them from the audience.

Running Time: 75 mins

* Available in NTSC DVD Only (Region Free)
* THIS DVD WILL PLAY ON ANY DUAL SYSTEM NTSC / PAL DVD PLAYER AND TV. Or any PC DVD.