Details: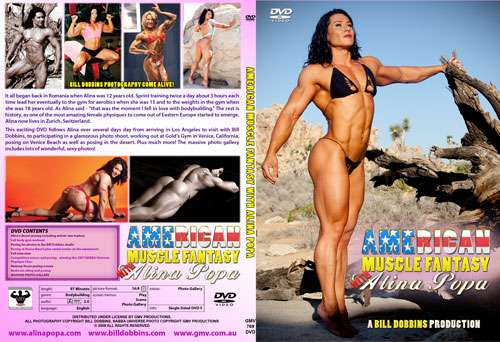 American Muscle Fantasy with Alina Popa
Alina is a new IFBB Pro. She will make her Pro debut at the 2010 Arnold Ms. International. It all began back in Romania when Alina was 12 years old. Sprint training twice a day lead her eventually to the gym when she was 18 years old. As Alina said – "that was the moment I fell in love with bodybuilding." The rest is history, as one of the most amazing female physiques to come out of Eastern Europe started to emerge.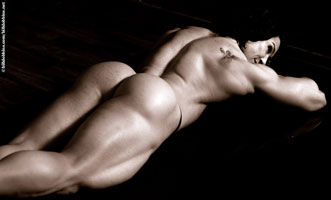 This exciting DVD follows Alina over several days from arriving in Los Angeles to visit with Bill Dobbins, to participating in a glamorous photo shoot, working out at Gold's Gym in Venice, California, posing on Venice Beach as well as posing in the desert. Plus much more! Alina lived the dream of her American Muscle Fantasy! See a massive photo gallery of sexy photos! A BILL DOBBINS FILM, PHOTOS COPYRIGHT BILL DOBBINS. NABBA UNIVERSE PHOTOS BY ALEX.
2007 NABBA UNIVERSE.

Here is what Wayne wrote in his 2007 Universe report: This year the physique class welcomed a brand new champion in the form of ALINA POPA of Romania. I felt that as soon as she walked out on stage in Round 1, I was looking at the winner. The judges agreed as Alina received almost all straight firsts. It was a most convincing victory for a new-comer to the International NABBA stage. Her physique was near faultless - best delts and arm size combination I have seen in years. The rest of her body - amazing.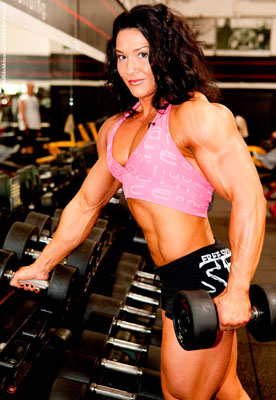 DVD CONTENT:

Alina's desert posing & artistic rear topless
Full body gym workout
Posing for photos in the Bill Dobbins studio
Posing at Venice Beach plus casual scenes on the equipment
Full interview
Competition scenes and posing - winning the 2007 NABBA Universe Physique Class
Makeup Room posing scenes
Bedroom oiling and posing
MASSIVE PHOTO GALLERY
TITLES

2008 IFBB Worlds Santa Susanna, 1st heavyweight class & Overall & Pro Card
2007 NABBA Universe, Miss Physique class winner
2006 1st place Grand Prix Due Torri, Bologna, Italy
2005 5th place Women's European Championship, Yalta, Ukraine
2005 2nd place Mixed Pairs European Championship with Angelo Alexa
2004 2nd place IFBB European Championship, heavyweight in Tavira, Portugal
2003 1st place Romanian National Championship, middleweight
HEIGHT 5-6" (168cm)
BICEPS 17", 16.3 contest
BACK 47" (120cm)
THIGHS 26.8", 24.8" contest
CALVES 17" (43 cm)
WEIGHT 181 lbs, 165lbs contest
SQUAT: 375 lbs(170 kg) x 4-6 reps
BENCH: 242 lbs (110 kg) x 4-6 reps
BICEPS CURL: 65 lbs (30 kg) each arm x 3 reps
DEADLIFT: 308 lbs (140kg)x 8 reps
BEST BODY PART: Shoulders
LEAST FAV. BODY PART: Calves
FAVORITE EXERCISE: Lateral raises & squats
BIG BICEPS - INCREDIBLE SHOULDERS & BACK - AMAZING LEGS - DOBBINS CLASSIC EXOTIC PHOTOGRAPHY!



Running time: 97 mins

* Available in NTSC DVD Only (Region Free)
* THIS DVD WILL PLAY ON ANY DUAL SYSTEM NTSC / PAL DVD PLAYER AND TV. Or any PC DVD.