Details: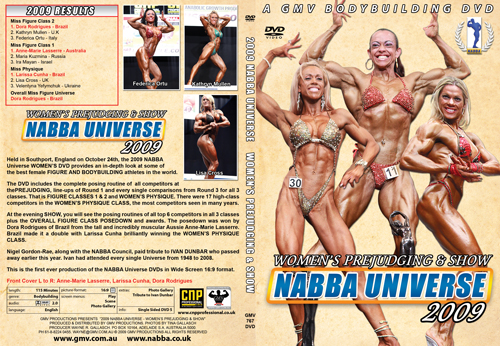 2009 NABBA UNIVERSE: THE WOMEN - PREJUDGING & SHOW
Held in Southport, England on October 24th, the 2009 NABBA Universe WOMEN'S DVD provides an in-depth look at some of the best female FIGURE AND BODYBUILDING athletes in the world. The DVD includes the complete posing routine of all competitors at the PREJUDGING, line-ups of Round 1 and every single comparisons from Round 3 for all 3 classes. That is FIGURE CLASSES 1 & 2 and WOMEN'S PHYSIQUE. There were 17 high-class competitors in the WOMEN'S PHYSIQUE CLASS, the most competitors seen in many years.
At the EVENING SHOW, you will see the posing routines of all top 6 competitors in all 3 classes plus the OVERALL FIGURE CLASS POSEDOWN and awards. The posedown was won by Dora Rodrigues of Brazil from the tall and incredibly muscular Class 1 winner Anne-Marie Lasserre from Australia. Brazil made it a double with Larissa Cunha brilliantly winning the WOMEN'S PHYSIQUE CLASS.
Nigel Gordon-Rae, along with the NABBA Council, paid tribute to IVAN DUNBAR who passed away earlier this year. Ivan had attended every single Universe from 1948 to 2008.

This is the first ever production of the NABBA Universe DVDs in Wide Screen 16:9 format.
2009 OVERALL WOMEN'S RESULTS:
FIGURE MISS UNIVERSE: Dora Rodrigues - Brazil
MISS UNIVERSE PHYSIQUE: Larissa Cunha - Brazil
EXTRA FEATURES:
Special Tribute to Ivan Dunbar.
Photo Gallery. 139 photos. All photos by Tina Gallasch.
2009 NABBA UNIVERSE WOMEN'S RESULTS:
Miss Figure Class 2
1. Dora Rodrigues - Brazil
2. Kathryn Mullen - U.K
3. Federica Ortu - Italy
4. Viviane Santos - Brazil
5. Flora Conte - Italy
6. Enza Cordio - Italy
Vanessa Sewell - UK
Gina Ford - UK
Ineta Rijniece - Latvia
Lilian Okubo - Brazil
Terri Roberts - Australia
Marie Falzon - Malta
Miss Figure Class 1
1. Anne-Marie Lasserre - Australia
2. Maria Kuzmina - Russia
3. Ira Mayan - Israel
4. Lidia Miralpeix - Spain
5. Anita Vegh - U.K
6. Jody Shuttleworth - UK
Jo Sperring - UK
Olga Kourkouline - Russia
Brigitta Grof - Hungary
Ally Dowling - Rep. of Ireland
Felecia Hamilton - Australia
Kathry Clough - South Africa
Aranea Sleeman - South Africa
Danielle Findlay - UK
Miss Physique
1. Larissa Cunha - Brazil
2. Lisa Cross - UK
3. Velentyna Yefymchuk - Ukraine
4. Sonia Cabre - Spain
5. Simone Souza - Brazil
6. Caroline Gaume - France
Lily Casella - Australia
Lisa Bailey - New Zealand
Delene Watkins - South Africa
Rene Campbell - UK
Sheila Vieira - Brazil
Caroline Wang - Austria
Riana Beech - South Africa
Jeanie Ellan - UK
Jessica Ghigo - Malta
Mona Johansson - Sweden
Vera Spanevee - Israel



Running Time: 115 mins

* Available in NTSC DVD Only (Region Free)
* THIS DVD WILL PLAY ON ANY DUAL SYSTEM NTSC / PAL DVD PLAYER AND TV. Or any PC DVD.