Details: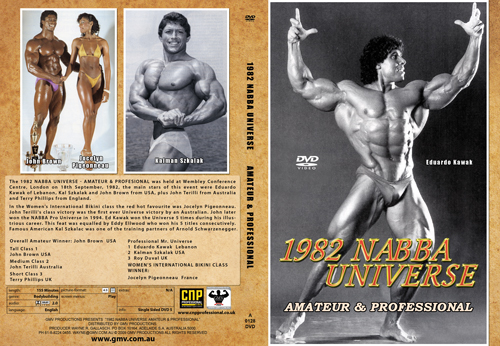 1982 NABBA Universe - Amateur & Professional

The 1982 NABBA UNIVERSE - AMATEUR & PROFESSIONAL, was held at the huge Wembley Conference Centre, London on 18th September, 1982. The main stars of this event were Eduardo Kawak of Lebanon, Kal Szkalak and John Brown from USA, John Terilli from Australia and Terry Phillips from England. See more DVDs on Terilli and Kawak at the bottom of this page.

In the Women's International Bikini class the red hot favourite was Jocelyn Pigeonneau who did not let her fans down. John Terilli's class victory was the first ever Universe victory by an Australian competitor. John later won the NABBA Pro Universe in 1994.

Ed Kawak won the Universe 5 times during his illustrious career and is pictured front cover in his signature pose. This record of 5 titles was later equalled by Eddy Ellwood who won his 5 Universe titles consecutively. Famous American Kal Szkalac was one of the training partners of Arnold Schwarzenegger in the latter stages of his career. Kal similarly had great charisma and was a standout at the Universe with his many fans. It was a pity that Kal did not come back again to claim the title that many said would be his for the taking!

Rod Koontz was another highly rated and very popular star from USA.

Best posing display was undountedly the virtusos performance from American posing legend and Overall Amateur Mr. Universe, JOHN BROWN. His unique and original style is continued today by such professional stars as Melvin Anthony.

The DVD was shot by one of our UK cameramen, and includes the main highlights of the whole event - from Prejudging and Show.

1982 NABBA Mr Universe - Results:

Overall Amateur Winner: John Brown USA

Tall Class 1
1 John Brown USA
2 Rufus Howard USA
3 Bob Esprit Holland
4 Phil Rohde USA
5 Patrick Nicholls Barbados
6 Livingston Jeffers Canada

Medium Class 2
1 John Terilli Australia
2 Ian Dowe UK
3 Vince Brown UK
4 Mike Sable USA
5 Georges Doulcle France
6 Jesse Gautreaux USA

Short Class 3
1 Terry Phillips UK
2 Francois Chung Mauritius
3 Eric Pieters Belgium
4 Manuel Velasco Spain
5 Eddie Giuliani USA
6 Rohmat Juraimi Singapore

1982 Professional Universe
1 Edouard Kawak Lebanon/France
2 Kalman Szkalak USA
3 Roy Duval UK
4 Ian Lawrence UK
5 Rod Koontz USA
6 Bill Richardson UK
7 Gabin Lambert France
8 Bill Hemsworth UK

WOMEN'S BIKINI INTERNATIONAL WINNER:

Jocelyn Pigeonneau France

Running Time: 155 mins

* Available in NTSC DVD Only (Region Free)
* THIS DVD WILL PLAY ON ANY DUAL SYSTEM NTSC / PAL DVD PLAYER AND TV. Or any PC DVD.