Details: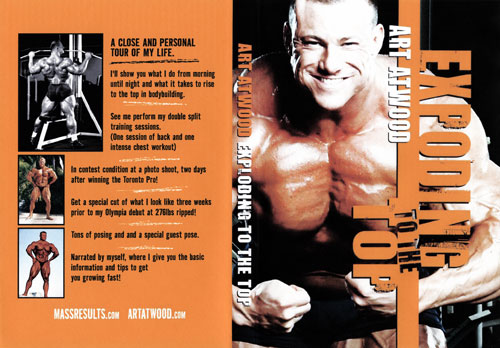 Art Atwood - Exploding to the Top

A Close and Personal Tour of My Life. I'll show you what I do from morning until night and what it takes to rise to the top in bodybuilding. See me perform my double split training sessions. (One session of back and one intense chest workout.)
In contest condition at a photo shoot, two days after winning the Toronto Pro!
Get a special cut of what I look like three weeks prior to my Olympia debut at 276 lbs ripped!
Tons of posing and a special guest pose. Narrated by myself, where I give you the basic information and tips to get you growing fast!
Art Atwood

Running Time: 65 mins

* Available in NTSC DVD Only (Region Free)
* THIS DVD WILL PLAY ON ANY DUAL SYSTEM NTSC / PAL DVD PLAYER AND TV. Or any PC DVD.