Details: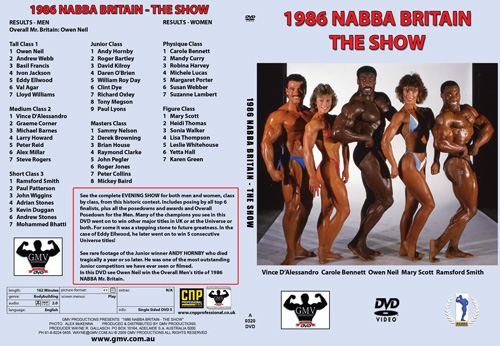 1986 NABBA Mr and Ms Britain - The Show

See the complete EVENING SHOW for both men and women, class by class, from this historic contest. Includes posing by all top 6 finalists, plus all the posedowns and awards and Overall Posedown for the Men. Many of the champions you see in this DVD went on to win other major titles in UK or at the Universe or both. For some it was a stepping stone to future greatness. In the case of Eddy Ellwood, he later went on to win 5 consecutive Universe titles!

See rare footage of the Junior winner ANDY HORNBY who died tragically a year of so later. He was one of the most outstanding Junior competitors we have ever seen or filmed.
In this DVD see Owen Neil win the Overall Men's title of 1986 NABBA Mr. Britain.
In the Women's Section, MARY SCOTT won the Figure Class with CAROLE BENNETT winning the Physique class.

1986 NABBA Mr Britain Results:

Overall Winner: Owen Neil

Tall Class 1
1 Owen Neil
2 Andrew Webb
3 Basil Francis
4 Ivon Jackson
5 Eddy Ellwood
6 Val Agar
7 Lloyd Williams

Medium Class 2
1 Vince D'Alessandro
2 Graeme Corner
3 Michael Barnes
4 Larry Howard
5 Peter Reid
6 Alex Millar
7 Steve Rogers

Short Class 3
1 Ramsford Smith
2 Paul Patterson
3 John Wiggins
4 Adrian Stones
5 Kevin Duggan
6 Andrew Stones
7 Mohammed Bhatti

Junior Class
1 Andy Hornby
2 Roger Bartley
3 David Kilroy
4 Daren O'Brien
5 William Roy Day
6 Clint Dye
7 Richard Oxley
8 Tony Megson
9 Paul Lyons

Masters Class
1 Sammy Nelson
2 Derek Browning
3 Brian House
4 Raymond Clarke
5 John Pegler
6 Roger Jones
7 Peter Collins
8 Mickey Baird

1986 NABBA Ms Britain

Physique Class
1 Carole Bennett
2 Mandy Curry
3 Robina Harvey
4 Michele Lucas
5 Margaret Porter
6 Susan Webber
7 Suzanne Lambert

Figure Class
1 Mary Scott
2 Heidi Thomas
3 Sonia Walker
4 Lisa Thompson
5 Leslie Whitehouse
6 Yetta Hall
7 Karen Green

Running Time: 165 mins

* Available in NTSC DVD Only (Region Free)
* THIS DVD WILL PLAY ON ANY DUAL SYSTEM NTSC / PAL DVD PLAYER AND TV. Or any PC DVD.