Details: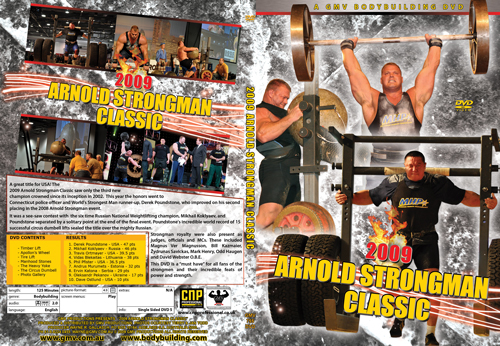 2009 Arnold Strongman Classic
A great title for USA!
The 2009 Arnold Strongman Classic saw only the third new champion crowned since its inception in 2002. This year the honors went to Connecticut police officer and World's Strongest Man runner-up, Derek Poundstone, who improved on his second placing in the 2008 Arnold Strongman event. It was a see-saw contest with the six time Russian National Weightlifting champion, Mikhail Koklyaev, and Poundstone separated by a solitary point at the end of the final event. Poundstone's incredible world record of 15 successful circus dumbell lifts sealed the title over the mighty Russian. Strongman royalty were also present as judges, officials and MCs. These included Magnus Ver Magnusson, Bill Kazmaier, Žydrunas Savickas, Mark Henry, Odd Haugen and David Webster O.B.E.
This DVD is a "must have" for all fans of the strongmen and their incredible feats of power and strength.
DVD Contents:
- Timber Lift
- Apollon's Wheel
- Tire Lift
- Manhood Stones
- The Heavy Yoke
- The Circus Dumbell
- Photo Gallery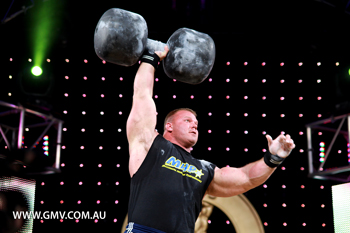 Photos courtesy Jan & Terry Todd

RESULTS:
1. Derek Poundstone - USA - 47 pts
2. Mikhail Koklyaev - Russia - 46 pts
3. Travis Ortmayer - USA - 39.5 pts
4. Vidas Blekaitas - Lithuania - 38 pts
5. Phil Pfister - USA - 36.5 pts
7. Andrus Murumets - Estonia - 32 pts
8. Ervin Katona - Serbia - 29 pts
9. Oleksandr Pekanov - Ukraine - 17 pts
10. Dave Ostlund - USA - 10 pts



Running Time: 125 mins

* Available in NTSC DVD Only (Region Free)
* THIS DVD WILL PLAY ON ANY DUAL SYSTEM NTSC / PAL DVD PLAYER AND TV. Or any PC DVD.