Details: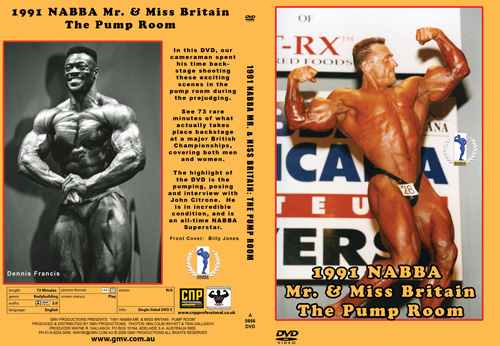 1991 NABBA Mr. & Miss Britain: Behind the Scenes - Pump Room

In this DVD, our cameraman spent his time backstage shooting these exciting scenes in the pump room during the prejudging.
Held in Blackpool, see 73 rare minutes of what actually takes place backstage at a major British Championships, covering both men and women.
Billy Jones is pictured front cover and Dennis Francis is pictured rear cover.

CONTENTS INCLUDE:

Mike A'Hearn who later became a TV Gladiator.
Francis Rainford the Overall Winner.
John Citrone pumping, posing and chatting to the cameraman.
Pauline Oliver.
Shaun Davis in the lobby.
See many of the Juniors.
Informal side, front & rear of stage shots at Prejudging.
Lloyd Samuels
Billy Jones.
Andy Webb.
Dennis Francis.
Vince Vasiliou.
Helen Madderson.
Lynda Mason, Women's Physique winner.
Louis Johns.
Mini interviews.
Prejudging tall class prejudging comparisons between Rainford & A'Hearn.
See a victorious Rainford posing from the Show Results.
1991 NABBA Mr. & Miss Britain - Results:
THE MEN
Overall Mr. Britain: Francis Rainford
Tall Class
1 Francis Rainford
2 Andrew Webb
3 Michael Ahearne
4 Wayne Severn
5 Robert McBride
6 Samson Cohen
7 Eric Hartley
8 Phil Peters

Medium-Tall Class
1 Dennis Francis
2 Michael Sadler
3 Steven Wiggins
4 Michael Johnson
5 Ian Coates
6 Barrie Vormawah
7 Vincent Wedderburn
8 Paul Massey

Medium Class
1 Billy Jones
2 Nicky Cheung
3 Michele Caira
4 Lloyd Samuels
5 Stephen Lloyd
6 Justin Trollope
7 Errol Kelly
8 Peter Cooper

Short Class
1 John McCall
2 Roy Navarro
3 Francesco Palmieri
4 Jason Corrick

Junior Class

1 Adrian Chapman
2 Gary Watkinson
3 Michael O'Hanlon
4 Jarret Palmer
5 Steve Wright
6 Steven McGrain
7 Michael Kelly
8 Paul Patterson

Masters

1 John Citrone
2 Bernard Bryan
3 John Madderson
4 Bob Hills
5 Nicholas Sinclair
6 Thomas Dunn
7 Tony Sullivan
8 Chris Deakin
THE WOMEN
Physique Class

1 Lynda Mason
2 Joan Nicholson
3 Loraine Farraday
4 Jane Corbett
5 Julia Ashail
6 Sarah Hackney
7 Helen Tarr
8 Deborah Bonsall

Overall Figure Class Winner: Louis Jane Johns
Figure Tall

1 Helen Madderson
2 Evelyn Lees
3 Anna Lovelock
4 Sandy Young
5 Kathleen Reah
6 Pauline Oliver
7 Andra Day
8 Karen Jackson
NP Mary Scott (had been 4th)
Figure Short

1 Louis Jane Johns
2 Janette Halstead
3 Pamela Barnett
4 Alison Hain
5 Ana-Maria Burgoyne
6 Avril Vormawah
7 Cathy Valley
8 Linda Simes

Running Time: 75 mins

* Available in NTSC DVD Only (Region Free)
* THIS DVD WILL PLAY ON ANY DUAL SYSTEM NTSC / PAL DVD PLAYER AND TV. Or any PC DVD.