Details: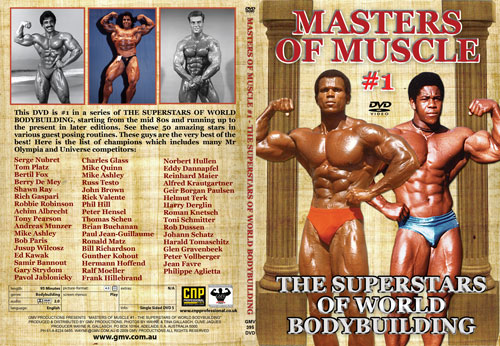 MASTERS OF MUSCLE #1: The Superstars of World Bodybuilding
This DVD is #1 in a series on THE SUPERSTARS OF WORLD BODYBUILDING, starting from the mid 80s and running up to the present time in later editions. See these 50 amazing stars in various guest posing routines. These guys are the very best of the best!

Here is the list of champions which includes many Mr. Olympia and Mr. Universe competitors:
Serge Nubret
Tom Platz
Bertil Fox
Berry De Mey
Shawn Ray
Rich Gaspari
Robbie Robinson
Achim Albrecht
Tony Pearson
Andreas Munzer
Mike Ashley
Bob Paris
Jusup Wilcosz
Ed Kawak
Samir Bannout
Gary Strydom
Pavol Jablonicky
Charles Glass
Mike Quinn
Mike Ashley
Russ Testo
John Brown
Rick Valente
Phil Hill
Peter Hensel
Thomas Scheu
Brian Buchanan
Paul Jean-Guillaume
Ronal Matz
Bill Richardson
Gunther Kohout
Hermann Hoffend
Ralf Moeller
Frank Hillebrand
Norbert Hullen
Eddy Dannapfel
Reinhard Maier
Alfred Krautgartner
Geir Borgan Paulsen
Helmut Terk
Harry Derglin
Roman Knetsch
Toni Schmitter
Rob Dussen
Johann Schatz
Harald Tomaschitz
Glen Gravenbeek
Peter Vollberger
Jean Favre
Philippe Aglietta
Photos by Wayne & Tina Gallasch & Clive Jaques.



Running Time: 95 mins

* Available in NTSC DVD Only (Region Free)
* THIS DVD WILL PLAY ON ANY DUAL SYSTEM NTSC / PAL DVD PLAYER AND TV. Or any PC DVD.