Details: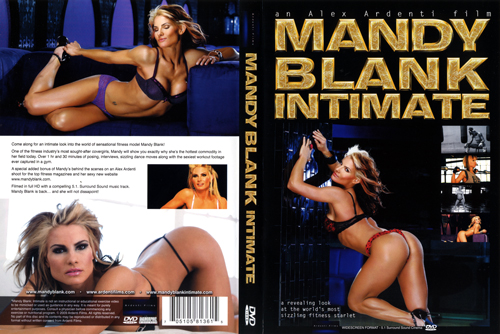 MANDY BLANK INTIMATE
Come along for an intimate look into the world of sensational fitness model Mandy Blank! She is one of the fitness industry¹s most sought-after cover girls and models. Mandy will show you exactly why she¹s the hottest commodity in her field today.
Over 1 hr and 30 minutes of posing, interviews and sizzling dance moves, along with the sexiest workout footage ever captured in a gym. Includes a special added bonus of Mandy's going behind the scenes on an Alex Ardenti shoot for the top fitness magazines, and her sexy new website.
Filmed in full HD WIDE SCREEN with a compelling 5.1. Surround Sound music sound track, Mandy Blank is back and she will not disappoint!
BRIEF BIO ON MANDY by MANDY
"I started serious training when I was 19.
Debbie Kruck first introduced me to the world of fitness contests and I was instantly hooked.
I had only been training in the gym (training) with weights for two months when I entered my first competition and I placed 2nd. It was then I decided to get really serious about training and vowed to come back the following year and win, which I did!
That win qualified me for the Team Universe and Nationals. I exploded on the scene with a 2nd place finish in the Team Universe and 12 weeks later won the Nationals and was presented, at the Nationals, with a special award for my "Hot For Teacher" routine. It was the first time an award had been given for a routine.
Everything happened really fast for me, I turned pro within a year and I continued onto the Arnold Classic. The Arnold is an invitation only contest and I was proud to have placed 6th in my first pro show ever.
I then started preparing for the World Championship and won the show. After the World Championships I decided to take a shot at the biggest show in the biz, The 1999 Fitness Olympia. I placed 6th overall and won my routine round. My exposure in the fitness contests lead to many magazine cover shoots. I currently have over a 100 international magazine periodical features and covers combined.
I'm now in LA to further my dreams and you're invited to watch it all unfold. I've also started my own clothing line, which you will be seeing everywhere, shortly. The line is a play on my last name. It's dedicated to my grandparents and family for always believing in me!"



Running Time: 95 mins

* Available in NTSC DVD Only (Region Free)
* THIS DVD WILL PLAY ON ANY DUAL SYSTEM NTSC / PAL DVD PLAYER AND TV. Or any PC DVD.