Details: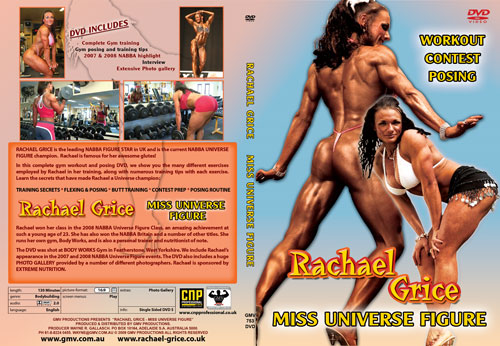 RACHAEL GRICE - MISS UNIVERSE FIGURE
RACHAEL GRICE is the leading NABBA FIGURE STAR in UK and is the current NABBA UNIVERSE FIGURE champion. Yorkshire has a long reputation for producing great bodybuilders and Rachael is keeping up this wonderful tradition from the women's side of bodybuilding. This DVD is a complete training guide for the aspiring Figure competitor.

In this full body gym workout and posing DVD, we show you the many different exercises employed by Rachael in her training, along with numerous training tips with each exercise. Learn the secrets that have made Rachael a Universe champion. There is also flexing and posing of each body part throughout the workout to emphasize the results to be gained from each individual exercise. The DVD also includes tips on nutrition, cardio, specialized butt training, posing and contest preparation, plus Rachael's posing routine shown both in full body filming and in close-up. Rachael is famous for her wonderful glutes!

Rachael won her class in the 2008 NABBA Universe Figure Class, an amazing achievement at such a young age of 23. She also won the NABBA Britain and a number of other titles. Rachael and Shane run their own gym, Body Works, and Rachael is also a personal trainer and nutritionist of note.

The DVD was shot at their BODY WORKS Gym in Featherstone, West Yorkshire. We include Rachael's appearance in the 2007 and 2008 NABBA Universe Figure events. The DVD features includes a huge PHOTO GALLERY provided by a number of different photographers. Rachael is sponsored by EXTREME NUTRITION.
Filmed in full HD WIDE SCREEN with a compelling 5.1. Surround Sound.

"This is without doubt one of the best, most informative FIGURE WORKOUT DVDs we have ever produced."
Contents of the DVD:
Complete Body Workout
Gym posing and training tips
2007 & 2008 NABBA Universe Figure class posing
Interview
Extensive Photo gallery
Photos by:
Alex McKenna
Hutch - Bodylogik Photography
Bruteman
Roger Shelley
Natalie Jakomis
Wayne Gallasch
Extras:
Photo Gallery of 81 photos - special thanks to the above photographers.
This DVD was shot at:
Body Works Gym
Warwick House
Green Lane
Featherstone
Pontefract
West Yorkshire WF7 6EH
UK
Phone: 01977 699333
Special thanks to Shane Copley for his help and assistance.
Rachael Grice Contest History:
2002 Pendle Valley under 18's 1st
2002 Five Towns Ladies Figure 1st
2003 Pendle Valley Ladies Figure 2nd
2003 North East Figure 1st
2003 NABBA Britain Class 2 Figure 6th
2004 NABBA North East Figure 1st
2004 NABBA Britain Class 2 Figure (DNP)
2005 NABBA North East Figure 2nd
2005 NABBA Britain Class 2 Figure 2nd
2006 NABBA Britain Class 2 Figure 1st
2007 NABBA England Trained Figure 1st
2007 NABBA Universe Class 2 Figure 3rd
2008 NABBA Miss Figure England 2008 1st
2008 NABBA Miss Universe 1st


Running Time: 130 mins

* Available in NTSC DVD Only (Region Free)
* THIS DVD WILL PLAY ON ANY DUAL SYSTEM NTSC / PAL DVD PLAYER AND TV. Or any PC DVD.