Details: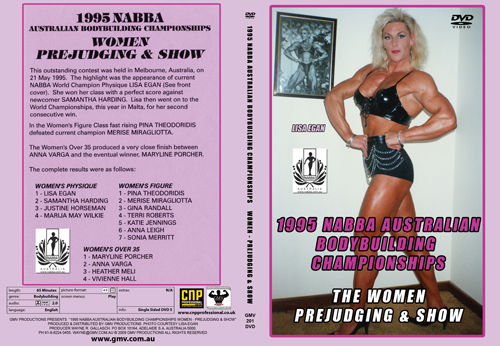 1995 NABBA Australian Bodybuilding Championships: Women - Prejudging & Show
Australia's premier event, the NABBA National Championships was held in Melbourne, Victoria on 21 May, 1995. This was also a qualifier to select the Aussie team to the NABBA World Championships.
This DVD presents the complete women's contest from the prejudging with all of the posing routines and round 1 and 3 comparisons and through to the Evening Show posing and presentations.
Lisa Egan, pictured front cover in this informal pose taken after we shot her gym workout, was ripped to shreds and dominated the field at the Australia. She then went on to make it a double at the World Championships in Malta where she won her class again. Sadly GMV was not able to attend that World Championships and so no video or DVD exists of this contest. Here is your best chance to see LISA EGAN at her absolute contest peak.
She has been one of the best, most dominant female bodybuilders ever produced by Australia.
1995 NABBA AUSTRALIA RESULTS:
THE WOMEN
WOMEN'S PHYSIQUE
1. Lisa Egan SA
2. Samantha Harding SA
3. Justine Horseman VIC
4. Marija Wilkie WA
WOMEN'S FIGURE
1. Pina Theodoridis VIC
2. Merise Miragliotta WA
3. Gina Randall NSW
4. Terri Roberts SA
5. Katie Jennings WA
6. Anna Leigh SA
7. Sonia Merritt SA
WOMEN'S OVER 35
1. Marylyn Porcher NSW
2. Anna Varga WA
3. Heather Meli VIC
4. Vivienne Hall VIC
Running Time: 70 mins

* Available in NTSC DVD Only (Region Free)
* THIS DVD WILL PLAY ON ANY DUAL SYSTEM NTSC / PAL DVD PLAYER AND TV. Or any PC DVD.