Details: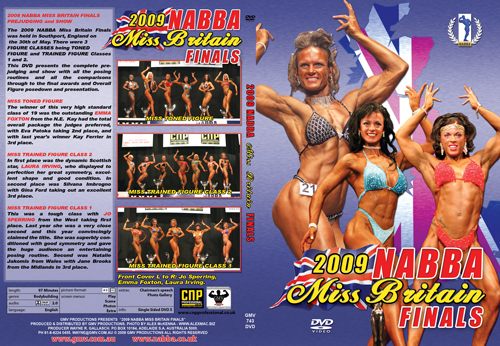 2009 NABBA Miss Britain Finals Prejudging & Show
The 2009 NABBA Miss Britain Finals was held in Southport, England on the 30th of May. There were 3 FIGURE CLASSES being TONED FIGURE and TRAINED FIGURE Classes 1 and 2.

This DVD presents the complete prejudging and show with all the posing routines and all the comparisons through to the final awards and Overall Figure posedown and presentation.
Of special note this year was the very strong showing from the Scottish team with Laura Irving winning Figure Class 2, and 4th placings to both Wendy Newman and Lynn Carmichael with good representation by the other Scottish women. In fact the 3 women's classes were the strongest ever seen at a Britain Finals.
MISS TONED FIGURE
The winner of this very high standard class of 19 was the outstanding EMMA FOXTON from the N.E. with Eva Patoka taking 2nd place, and with last year's winner Kay Ferrier having to settle for 3rd place.
MISS TRAINED FIGURE CLASS 2
In first place was the dynamic Scottish star, LAURA IRVING, who displayed to perfection her great symmetry, excellent shape and good condition. In second place was Silvana Imbrogno with Gina Ford taking out an excellent 3rd place. Silvana and Jo represented UK at the NABBA Worlds in Slovakia 2 weeks later. Please click here for the Women's Worlds DVD, GMV-748DVD.
MISS TRAINED FIGURE CLASS 1
This was a tough class with JO SPERRING from the West taking first place. Last year she was a very close second in her class and this year convincingly claimed the title. Jo was superbly conditioned with good symmetry, outstanding legs and back and gave the huge audience a wonderfully entertaining posing routine. Second was Natalie Jakomis from Wales with Jane Brooks from the Midlands in 3rd place.
The OVERALL TRAINED FIGURE MISS BRITAIN title went to Jo Sperring.
Front cover photos from left to right: JO SPERRING, EMMA FOXTON and LAURA IRVING.
Includes a Photo Gallery, courtesy Alex McKenna THE BEEF magazine.
All photos by Alex McKenna, The Beef Magazine.
Extras:
The NABBA Chairman's Welcome
Photo Gallery - 69 photos
Complete Women's Results:
MISS FIGURE - TONED
1. Emma Foxton - N.East
2. Eva Patoka - S.East
3. Kay Ferrier - S.East
4. Lynn Carmichael - Scotland
5. Joanne Stanger - N.East
6. Beauty Gandiwa - West
NP
Elizabeth Kalsi - Scotland
Claire Harper - N.West
Carrie Cohen - Midlands
Theresa Hall - North
Christal Cornick - South
Gemma Marks - West
Angela Ogg - Scotland
Melanie Towers - North
Jo Olsson - Midlands
Clare Burrell - Scotland
Jo Brown - Scotland
Lindsay Harris - West
Kristin Lumm - Midlands
MISS FIGURE TRAINED - CLASS 2
1. Laura Irving - Scotland
2. Silvana Imbrogno - S.East
3. Gina Ford - West
4. Wendy Newman - Scotland
5. Angie Moore - North
6. Vanessa Sewell - N.West
7. Andrea Hair - North
MISS FIGURE TRAINED - CLASS 1
1. Jo Sperring - West
2. Natalie Jakomis - Wales
3. Jane Brooks - Midlands
4. Donna McDonald - West
5. Sahar Rastani - S.East
2009 OVERALL NABBA MISS BRITAIN TRAINED FIGURE: JO SPERRING



Running Time: 100 mins

* Available in NTSC DVD Only (Region Free)
* THIS DVD WILL PLAY ON ANY DUAL SYSTEM NTSC / PAL DVD PLAYER AND TV. Or any PC DVD.