Details: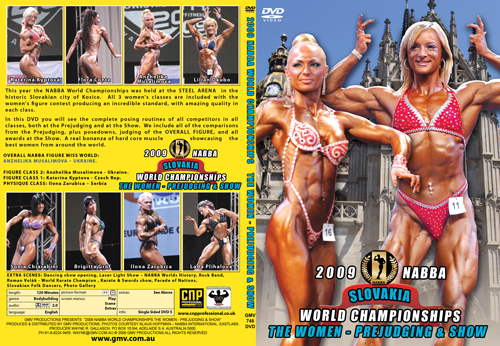 2009 NABBA World Championships: The Women - Prejudging & Show
This year the NABBA World Championships was held at the STEEL ARENA in the historic Slovakian city of Kosice. All 3 women's classes are included with the women's figure contest producing an incredible standard, with amazing quality in each class. The show enjoyed the biggest audience ever seen at a NABBA contest - almost 3000 fans.
In this DVD you will see the complete posing routines of all competitors in all classes at the Prejudging and the top 6 at the Show. We include all of the comparisons from the Prejudging, plus posedowns, judging of the OVERALL FIGURE, and all awards at the Show. A real bonanza of hard core muscle showcasing the best women from around the world.
COMMENTS ON THE EXTRA SCENES:

The DVD contains the most comprehensive selection of EXTRA SCENES we have ever offered from an international contest. 30 minutes of them! The promoter Arpad Mester turned on a night of pure entertainment that was simply incredible.
This time the extra scenes include a different slant in the extensive PHOTO GALLERY. Apart from the usual bodybuilding pictures, we include Wayne's peek behind the scenes during set-up, plus other interesting informal photos in and around the contest.
You will also see some amazing acts and entertainment such as Roman Volák - World Karate Champion in a solo and duo virtuoso performance.
Slovakian Folk Dancing which adds to the local flavour of the event. Plus a local rock group to warm up the huge crowd.
Of special note was the incredible LASER LIGHT SHOW that told the story of the NABBA WORLD CHAMPIONSHIPS, from year one back in 1984 in Serbia (then called Yugoslavia) to the present year's event in Slovakia, 2009.
Plus the Parade of Nations representing the various countries at the event.
The Main Results:
OVERALL NABBA FIGURE MISS WORLD: Anzhelika Musalimova – Ukraine.
FIGURE CLASS 2: Anzhelika Musalimova - Ukraine.
FIGURE CLASS 1: Katerina Kyptova - Czech Rep.
PHYSIQUE CLASS: Ilona Zarubica - Serbia.
Photos courtesy Klaus Hoffman – NABBA International, EastLabs, Olivier Ripert.
Front Cover: Musalimova is pictured front cover left and Kyptova on the right.
Contest Running Time: 90 mins
Extra Scenes: 30 mins
EXTRA SCENES:
Dancing show opening
Laser Light Show – History of NABBA World
Rock Band
Roman Volák - World Karate Champion
Karate & Swords show
Parade of Nations
Slovakian Folk Dancers
Photo Gallery including Behind the Scenes
2008 NABBA World Championships
June 13th, Kosice, Slovakia.
THE WOMEN'S COMPLETE RESULTS:
FIGURE CLASS 2
1. Anzhelika Musalimova - Ukraine
2. Lilian Okubo - Brazil
3. Flora Conte - Italy
4. Lada Plihalova - Czech Rep.
5. Jana Zouzelkova - Czech rep.
6. Gabriella Bankuti - Hungary
7. Manuella Monteiro - France
8. Anna Hetzel - Australia
NP
Karolina Holubcova - Czech Rep.
Olga Novik - Ukraine
Ildiko Frank - Hungary
Silvana Imbrogno - UK
FIGURE CLASS 1
1. Katerina Kyptova - Czech Rep.
2. Brigitta Grof - Hungary
3. Sonia Chiarabini - Italy
4. Tais Oshita - Brazil
5. Joanne Sperring - UK
6. Natasa Maksimovic - Serbia
7. Emmanuelle Ogeda - France
MISS PHYSIQUE
1. Ilona Zarubica - Serbia
2. Martine Leys - Belgium



Running Time: 120 mins

* Available in NTSC DVD Only (Region Free)
* THIS DVD WILL PLAY ON ANY DUAL SYSTEM NTSC / PAL DVD PLAYER AND TV. Or any PC DVD.