Details: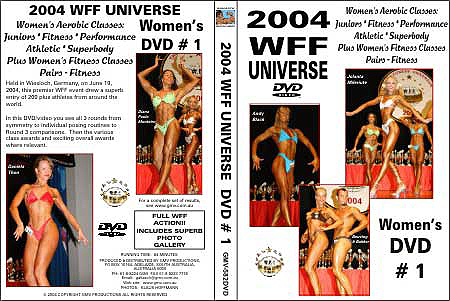 2004 WFF Universe: The Women DVD # 1

Women's Aerobic Classes: Juniors, Fitness, Performance, Athletic & Superbody
Plus Women's Fitness Classes and Pairs Fitness.
Includes all Women's Fitness Classes (Under 20, 20-25, 25-30, 30-35, and over 35).
Held in Wiesloch, Germany, on June 19, 2004, this premier WFF event drew a superb entry of 200 plus athletes from around the world.
In this DVD/video you see all 3 rounds from symmetry to individual posing routines to Round 3 comparisons. Then the various class awards and exciting overall awards where relevant.
FULL WFF ACTION!! INCLUDES PHOTO GALLERY

Running Time: 85 mins

* Available in NTSC DVD Only (Region Free)
* THIS DVD WILL PLAY ON ANY DUAL SYSTEM NTSC / PAL DVD PLAYER AND TV. Or any PC DVD.