Details: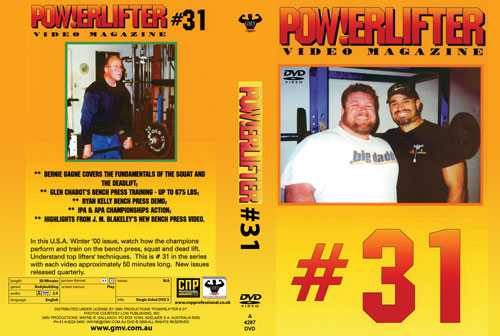 Powerlifter Video Magazine Issue # 31
In this full live action DVD watch how the champions perform and train on the Bench Press, Squat and Deadlift. Understand top lifters' techniques. This is #31 in the super popular series with each DVD around 50-55 minutes in length. This edition features some of the most popular men in powerlifting in BERNIE GAGNE, GLEN CHABOT, RYAN KENNELLY, RICHARD SCHOENBERGER and more.

Contents:
* Bernie Gagne covers the fundamentals of the Squat and the Deadlift;
* Glen Chabot's Bench Press Training - up to 675 lbs;
* Ryan Kennelly Bench Press Demo;
* IPA & APA Championships action;
* Highlights from J.M. Blakley's New Bench Press video.

Running Time: 60 mins

* Available in NTSC DVD Only (Region Free)
* THIS DVD WILL PLAY ON ANY DUAL SYSTEM NTSC / PAL DVD PLAYER AND TV. Or any PC DVD.