Details: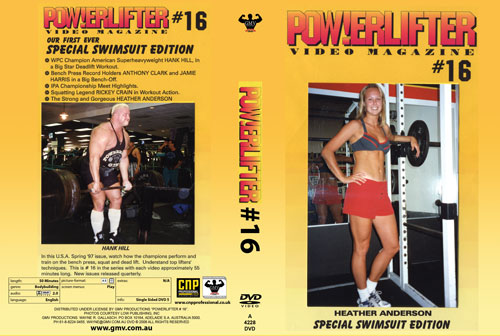 Powerlifter Video Magazine Issue # 16

In this full live action DVD watch how the champions perform and train on the Bench Press, Squat and Deadlift. Understand top lifters' techniques. This is #16 in the super popular series with each DVD around 55 minutes in length. This edition features some of the most popular people in powerlifting in ANTHONY CLARK, HANK HILL, JAMIE HARRIS, RICKEY CRAIN plus HEATHER ANDERSON.
Contents:
WPC Champion American Super heavyweight Hank Hill deadlift workout;
Bench Press record holders Anthony Clark and Jamie Harris in a Big Bench-Off;
IPA meet highlights;
Rickey Crain in Workout Action;
Heather Anderson - "Special Swimsuit Edition!!"

Running Time: 60 mins

* Available in NTSC DVD Only (Region Free)
* THIS DVD WILL PLAY ON ANY DUAL SYSTEM NTSC / PAL DVD PLAYER AND TV. Or any PC DVD.