Details: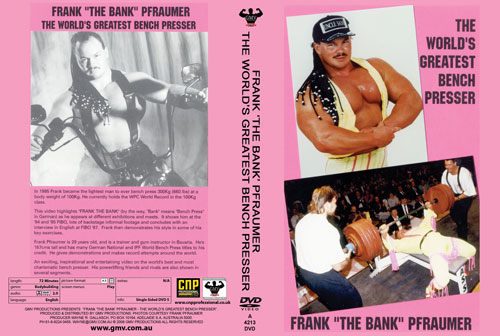 FRANK THE BANK - WORLD'S GREATEST BENCH PRESSER
In German, "THE BANK" means "the bench" or literally, Frank the Benchpresser.
In 1995 Frank became the lightest man ever to bench press 300 kg (660 lbs) at a body weight of 100kg. He currently holds the WPC World Record in the 100kg class. His goal is to break the 700 lb barrier at his usual body weight.
This video now DVD highlights "FRANK THE BANK" as he appears at different exhibitions and meets. It shows him at the 1994 and 1995 FIBO, lots of backstage informal footage and concludes with his world record attempt at the 1996 FIBO in Germany.
An exciting, inspirational and entertaining video on the world's best and most charismatic bench presser. His powerlifting friends and rivals are also shown in several segments.
A trainer and gym instructor in Bavaria, Frank Pfraumer is 29 years old, 167 cms tall and has many German National and IPF World bench press titles to his credit.
Frank is a true SUPER STAR of Powerlifting! Learn some of his bench pressing secrets from this DVD!

Running Time: 72 mins

* Available in NTSC DVD Only (Region Free)
* THIS DVD WILL PLAY ON ANY DUAL SYSTEM NTSC / PAL DVD PLAYER AND TV. Or any PC DVD.