Details: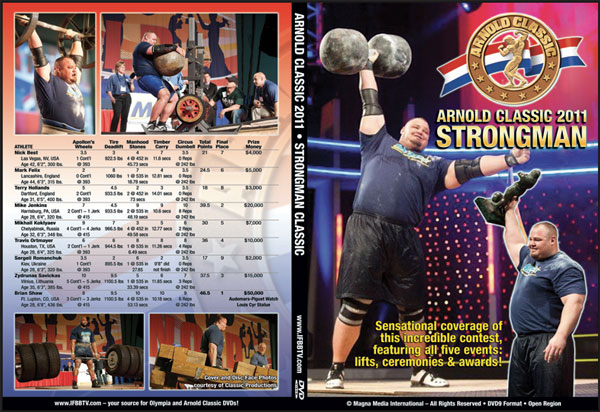 2011 Arnold Classic Strongman

Complete coverage of this incredible display of skill and strength. Every Strongman fan will want this DVD as it covers each intimidating apparatus and the champions' skills in commanding its unique challenges with amazing determination and power.
Multiple world records were set, and then the exciting finals on stage in front of thousands of fans, and a humorous interview by Arnold Schwarzenegger with the towering 6'8" 436 pound winner, Brian Shaw of the USA.
The DVD cover includes the complete scorecard from all five events: Apollon's Wheel, Tire (Hummer) Deadlift, Manhood Stones, Timber Carry, and Circus Dumbell. Amazing feats of power and stamina!
2011 Arnold Strongman Classic Results:
1. Brian Shaw - USA
2. Mike Jenkins - USA
3. Zydrunas Savickas - Lithuania
4. Travis Ortmayer - USA
5. Mikhail "Misha" Koklyaev - Russia
6. Mark Felix - UK
7. Nick Best - USA
8. Terry Hollands - UK
9. Sergeii Romanchuk - Ukraine



Running Time: 145 mins

* Available in NTSC DVD Only (Region Free)
* THIS DVD WILL PLAY ON ANY DUAL SYSTEM NTSC / PAL DVD PLAYER AND TV. Or any PC DVD.