Details: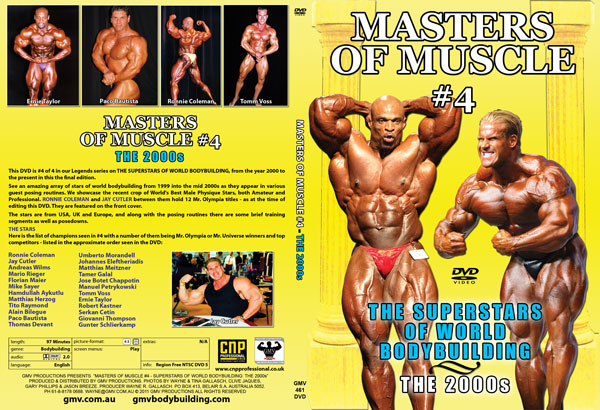 MASTERS OF MUSCLE #4: The Superstars of World Bodybuilding: The 2000s
This DVD is #4 of 4 in our Legends series on THE SUPERSTARS OF WORLD BODYBUILDING, from the year 2000 to the present in this the final edition.
See an amazing array of stars of world bodybuilding from 1999 into the mid 2000s as they appear in various guest posing routines. We showcase the recent crop of World's Best Male Physique Stars, both Amateur and Professional. RONNIE COLEMAN and JAY CUTLER between them hold 12 Mr. Olympia titles - as at the time of editing this DVD. They are featured on the front cover.
The stars are from USA, UK and Europe, and along with the posing routines there are some brief training segments as well as posedowns.
THE STARS:
Here is the list of champions seen in #4 with a number of them being Mr. Olympia or Mr. Universe winners and top competitors - listed in the approximate order seen in the DVD:
Ronnie Coleman
Jay Cutler
Andreas Wilms
Mario Rieger
Florian Maier
Mike Sayer
Hamdullah Aykutlu
Matthias Herzog
Tito Raymond
Alain Bilegue
Paco Bautista
Thomas Devant
Umberto Morandell
Johannes Eleftheriadis
Matthias Meitzner
Tamer Galal
Jose Botet Chappotin
Manuel Petrykowski
Tomm Voss
Ernie Taylor
Robert Kastner
Serkan Cetin
Giovanni Thompson
Gunter Schlierkamp
Photos by Wayne Gallasch, Clive Jaques, Gary Phillips, Jason Breeze

Running Time: 105 mins

* Available in NTSC DVD Only (Region Free)
* THIS DVD WILL PLAY ON ANY DUAL SYSTEM NTSC / PAL DVD PLAYER AND TV. Or any PC DVD.