Details: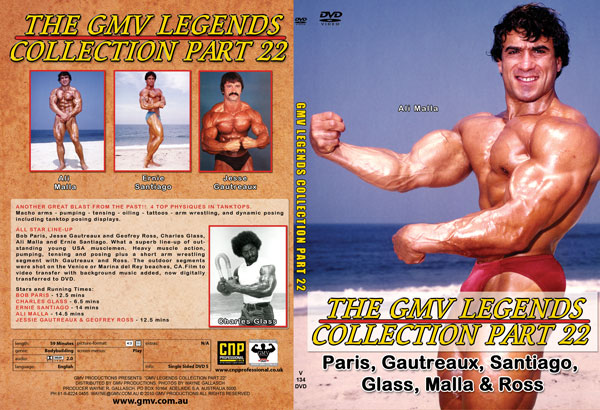 The GMV Legends Collection # 22:
Paris, Gautreaux, Santiago, Glass, Malla & Ross
ANOTHER GREAT BLAST FROM THE PAST!! 4 TOP PHYSIQUES IN TANKTOPS.
Macho arms - pumping - tensing - oiling - tattoos - arm wrestling, and dynamic posing including tanktop posing displays.
ALL STAR LINE-UP
Bob Paris, Jesse Gautreaux and Geofrey Ross, Charles Glass, Ali Malla and Ernie Santiago. What a superb line-up of outstanding young USA musclemen. Heavy muscle action, pumping, tensing and posing plus a short arm wrestling segment with Gautreaux and Ross.
The outdoor segments were shot on the Venice or Marina del Rey beaches, CA
Film to video transfer with background music added, now digitally transferred to DVD.
Stars and Running Times:
BOB PARIS - 12.5 mins
CHARLES GLASS - 6.5 mins
ERNIE SANTIAGO - 14 mins
ALI MALLA - 14.5 mins
JESSIE GAUTREAUX & GEOFREY ROSS - 12.5 mins
Please Note: The Bob Paris footage is the same as the first 12.5 mins seen in the BOB PARIS FEATURE which is V-110DVD. It is classic footage in a tanktop, well worth seeing again.
Outdoor photos by Wayne Gallasch.
Running Time: 95 mins
* Available in NTSC DVD Only (Region Free)
* THIS DVD WILL PLAY ON ANY DUAL SYSTEM NTSC / PAL DVD PLAYER AND TV. Or any PC DVD.