Details: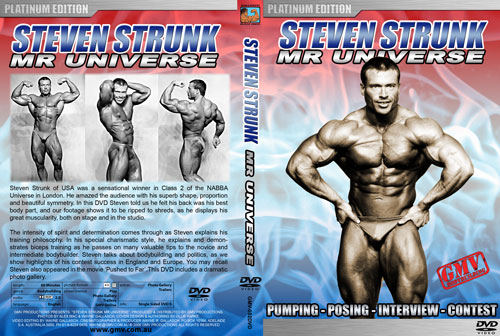 Steven Strunk - Mr Universe
Platinum Edition - Pumping, Posing, Interview, Contest
In 1987 Steven Strunk of U.S.A. was a sensational winner in Class 2 of the NABBA Universe in London.
He amazed the audience with his superb shape, proportion and beautiful symmetry. In this video, Steven told us he felt his back was his best body part and our footage shows it ripped to shreds, as he displays his great muscularity both on stage and in the studio.
The intensity of his spirit and determination comes through as Steven explains his training philosophy. In his special charismatic style, he explains and demonstrates bicep training as he passes on many valuable tips to the novice and intermediate bodybuilder.
Steven talks about international bodybuilding and politics as we show highlights of his contest success in England and in Europe.
He has left his mark on the sport of bodybuilding and will never be forgotten.

Running Time: 60 mins

* Available in NTSC DVD Only (Region Free)
* THIS DVD WILL PLAY ON ANY DUAL SYSTEM NTSC / PAL DVD PLAYER AND TV. Or any PC DVD.