Details: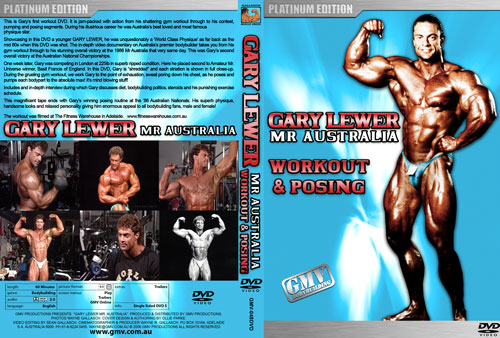 Gary Lewer - Mr. Australia, Mr. Universe, Mr. World
The rise and rise of Australian champion Gary Lewer. Gym workout, posing and interview.
This unseen gem was recently found in our archives, and what a find on one of Australia's greatest bodybuilders of his time. When this was filmed Gary was in his all time best shape. This is definatly one for your muscle DVD collections. ***** Five Stars.

This is Gary's first workout DVD. It is jam-packed with action from his shattering gym workout through to his contest, pumping and posing segments. During his illustrious career he was Australia's best loved and most famous physique star.
Showcasing in this DVD a younger GARY LEWER, he was unquestionably a 'World Class Physique' as far back as the mid 80s when this DVD was shot. The in-depth video documentary on Australia's premier bodybuilder takes you from his gym workout through to his stunning overall victory at the 1986 Mr Australia that very same day. This was Gary's second overall victory at the Australian National Championships.
One week later, Gary was competing in London at 225lb in superb ripped condition. Here he placed second to Amateur Mr. Universe winner, Basil Francis of England. In this DVD, Gary is "shredded" and each striation is shown in full close-up. During the grueling gym workout, we work Gary to the point of exhaustion, sweat poring down his chest, as he poses and pumps each bodypart to the absolute max! It's mind blowing stuff!
Includes and in-depth interview during which Gary discusses diet, bodybuilding politics, steroids and his punishing exercise schedule.
This magnificent DVD ends with Gary's winning posing routine at the '86 Australian Nationals. His superb physique, handsome looks and relaxed personality giving him enormous appeal to all bodybuilding fans, male and female!

Running Time: 60 mins

* Available in NTSC DVD Only (Region Free)
* THIS DVD WILL PLAY ON ANY DUAL SYSTEM NTSC / PAL DVD PLAYER AND TV. Or any PC DVD.