Details: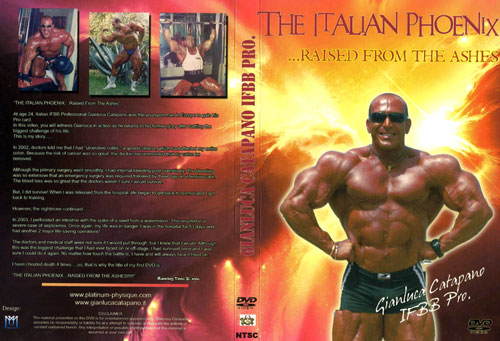 Gianluca Catapano: THE ITALIAN PHOENIX…RAISED FROM THE ASHES
Training – Posing – Adversity – Triumph!
As far as we know, this is the first ever training DVD by an Italian Pro Bodybuilder. See 90 minutes of hardcore, gut-busting training along with amazing posing and a highly emotional personal story of triumph over adversity. Plus images from Gianluca's daily life as a bodybuilder on the rise.
Catapano's passion for bodybuilding began when he was 14 when he saw the Arnold movie COMMANDO. He felt inspired to become a bodybuilder at all costs. Starting out at a very weak 128 lbs (58kg) at a height of 5'9" (173cms) and health problems, the road ahead looked long and hard. With much passion and hard work Gianluca has brought his weight up to 256 lbs (116kg) off season. Now 31, he also consults and trains other people in his highly successful business.
His greatest moments: Placing first at the European Championships and first at the Mr. Universe followed by his first time on the IFBB Pro stage.
At the age of 24 he was one of the youngest men in Europe to gain his Pro card. In this DVD you will witness Gianluca in action as he returns to his former glory after battling the biggest challenge of his life. This is his story…
In 2002 doctors told him that he had "ulcerative colitis", a genetic disease which had affected his entire colon. Because the risk of cancer was so great, the doctors recommended that his entire colon be removed. The primary surgery went smoothly, he had massive internal bleeding post operatively. The bleeding was so extensive that an emergency surgery was required followed by 3 days in intensive care. The blood loss was so great, the doctors did not expect Gianluca to survive.
But he did survive! When released from hospital, life and then training gradually got back to normal. However it was not yet all over and soon the nightmare continued. In 2003 he perforated a part of his remaining intestine with the sharp end of a watermelon seed that had accidentally been swallowed. This resulted in severe case of septicaemia. Once again Gianluca's life was in danger and he remained in hospital for 53 days and had another 2 major life-saving operations!
The doctors and medical staff were not sure if his body could stand all this massive stress yet again. This was the greatest challenge Catapano had ever faced in his whole life. He felt that as he had survived once against all odds and he was sure he could pull through again. No matter how hard the battle, Gianluca always felt he could succeed by challenging it head on. In total he has cheated death 4 times with his indomitable spirit of never giving up, and his enormous will to succeed. Hence the title of this amazing 90 minute DVD "THE ITALIAN PHOENIX…RAISED FROM THE ASHES".

Running Time: 95 mins

* Available in NTSC DVD Only (Region Free)
* THIS DVD WILL PLAY ON ANY DUAL SYSTEM NTSC / PAL DVD PLAYER AND TV. Or any PC DVD.