Details: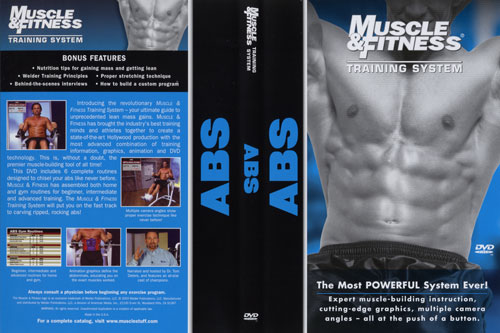 Muscle & Fitness Training System - Abs
6 complete routines to chisel your abs.
Introducing the revolutionary Muscle & Fitness Training System - your ultimate guide to unprecedented lean mass gains. Muscle & Fitness has brought the industry's best training minds and athletes together to create a state-of-the-art Hollywood production with the most advanced combination of training information, graphics, animation, and DVD technology. This is, without a doubt, the premier muscle-building tool of all time!
This DVD includes 6 complete routines designed to chisel your abs like never before. Muscle & Fitness has assembled both home and gym routines for beginner, intermediate and advanced training. The Muscle & Fitness Training System will put you on the fast track to carving ripped, rockin' abs!
BONUS FEATURES - 75 minutes!
Nutrition tips for gaining mass and getting lean
Weider Training Principles
Proper stretching techniques
Behind-the-scenes interviews
How to build a custom program
Narrated and hosted by Dr. Tom Deters and includes an all-star cast of champions: Garrett Downing, Richard Jones, Timea Majorova, Gunter Schlierkamp, Tommi Thorvildsen... and more.
"Expert muscle-building instruction, cutting-edge graphics, multiple camera angles - all at the push of a button."

Running Time: 110 mins

* Available in NTSC DVD Only (Region Free)
* THIS DVD WILL PLAY ON ANY DUAL SYSTEM NTSC / PAL DVD PLAYER AND TV. Or any PC DVD.