Details: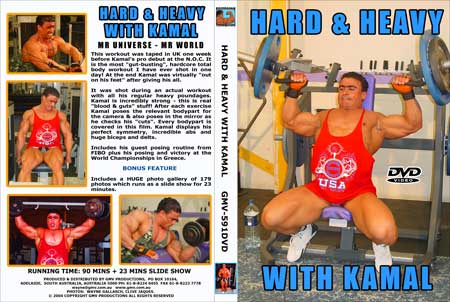 Hard and Heavy with Kamal - Hard Core Training DVD
This workout was taped in Wales, UK one week before Kamal's pro debut at the N.O.C.
It is the most "gut-busting", brutal, hardcore total body workout I have ever shot in one day! At the end Kamal was virtually "out on his feet" after giving his all. It was shot during an actual workout with all his regular heavy poundages. Kamal is incredibly strong - this is real "blood & guts" stuff!

WARNING: Do not try to duplicate a heavy, complete body workout all in one day as performed by Kamal.
After each exercise Kamal poses the relevant bodypart for the camera and also poses in the mirror as he checks his "cuts".

Every bodypart is covered in this amazing and inspirational DVD.
If you really want to learn how to work out, then watch this training DVD and make notes!
Kamal displays his perfect symmetry, incredible abs and huge biceps and delts. Includes his guest posing routine from FIBO plus his posing and victory at the World Championships in Greece.
BONUS FEATURE - Includes a HUGE photo gallery of 179 photos which runs as a slide show for 23 minutes.

Running Time: 90 mins

* Available in NTSC DVD Only (Region Free)
* THIS DVD WILL PLAY ON ANY DUAL SYSTEM NTSC / PAL DVD PLAYER AND TV. Or any PC DVD.