Details: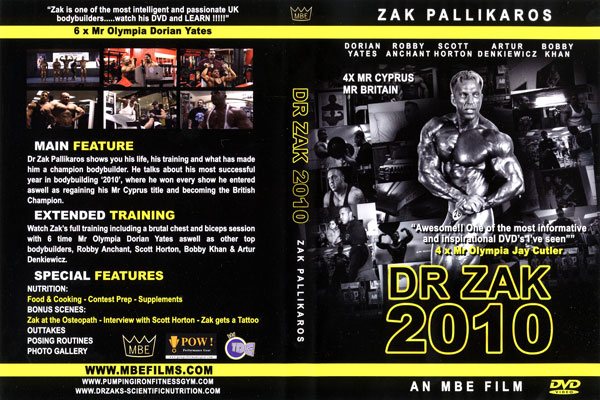 DR ZAK 2010 - Zak Pallikaros
A complete training blueprint for every aspiring bodybuilder!
4 Time Mr Cyprus
Mr Britain
"Awesome!! One of the most informative and inspirational DVDs I've seen - JAY CUTLER."
"Zak is one of the most intelligent and passionate UK bodybuilders....watch and LEARN!!! - DORIAN YATES".
MAIN FEATURE
Dr Zak Pallikaros shows you his life, his training and what has made him a champion bodybuilder. He talks about his most successful year in bodybuilding '2010', where he won every show he entered as well as regaining his Mr Cyprus title and becoming the British Champion.
EXTENDED TRAINING
Watch Zak's full training including a brutal chest and biceps session with 6 time Mr Olympia Dorian Yates - as well as other top bodybuilders, Robby Anchant, Scott Morton, Bobby Khan & Artur Denkiewicz.
SPECIAL FEATURES:
NUTRITION:
Food and Cooking - Contest Prep - Supplements - Food shopping - Precontest diets
BONUS SCENES:
Zak at the Osteopath - Interview with Scott Morton - Zak gets a Tattoo
OUTTAKES
POSING ROUTINES
PHOTO GALLERY
See a personal message from Jay Cutler to Zak at the start of the DVD, and also the very special segment showing Zak training with Dorian Yates at Temple Gym, plus Jay's and Dorian's quotes on the cover.
Top Achievements:
Mr. Cyprus Grand Prix 2006 - 1st
Mr. Cyprus Grand Prix 2007 - 1st
Mr. Cyprus Grand Prix 2010 - 1st
Contest History:
2005 NABBA Mr Britain - Class 2, 2nd place
2005 NABBA Mr Universe - Top 10 Finish
2006 IFBB Mr Cyprus Grand Prix - 1st Overall 2007 IFBB Mr Cyprus Grand Prix - 1st Overall
2007 WABBA Mr Capital City - Class 2, Winner 2008 IFBB Mr Cyprus Grand Prix - 1st Heavyweight
2008 Muscle Mayhem - Men's Open & Overall Winner 2008 IFBB European bodybuilding championships - Top 10 finish
2010 EFBB British Championships - Masters 40+, 1st 2010 IFBB Mr. Cyprus Grand Prix - 1st Overall



Running Time: 180 mins

* Available in NTSC DVD Only (Region Free)
* THIS DVD WILL PLAY ON ANY DUAL SYSTEM NTSC / PAL DVD PLAYER AND TV. Or any PC DVD.