Details: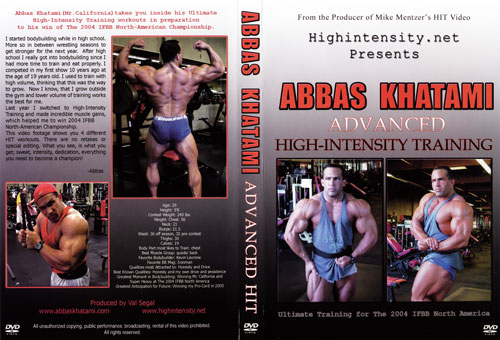 Abbas Khatami - Advanced High-Intensity Training
High Intensity Studios has recently released this new DVD on IFBB pro ABBAS KHATAMI. Abbas takes you through his entire workout with a massive amount of clear commentary throughout the entire DVD! This is a must have for any HIT fan.
" I had just won the IFBB North American Championships on Sept 4, 2004. I have been in the top 5 in the USA for that past 4 years at the National level. After winning 1st place at the North American's which is a pro qualifier I produced my own training DVD. This DVD illustrates how I trained this past year in order to move up to the super heavyweight class and how I put on 15lbs of contest muscle in one year. In the DVD I also talk about how I got into bodybuilding and everything that has gone on since that time. "
" See and learn how I got to the present point in my life today. For all those looking for a top class training DVD on how to workout properly, this is the DVD for you."
Contest history:
1995
Collegiate Nationals - NPC, Light-Heavyweight, 1st
1998
Nationals - NPC, Heavyweight, 11th
1999
California Championships - NPC, Overall Winner
2000
USA Championships - NPC, Heavyweight, 4th
2001
USA Championships - NPC, Heavyweight, 5th
2002
Nationals - NPC, Heavyweight, 7th
USA Championships - NPC, Heavyweight, 3rd
2003
USA Championships - NPC, Heavyweight, 5th
2004
North American Championships - IFBB, Super-Heavyweight, 1st USA Championships - NPC, Super-Heavyweight, 5th
2006
North American Championships - IFBB, Super-Heavyweight, 3rd
DVD Review by Matt Canning:
Overall, I felt that his was an incredibly well produced DVD. That sort of suprised me because at the time the DVD was shot (and the time this review was uploaded - July 2005), Abbas was still an amateur bodybuilder. The amazing thing is that this DVD was better produced than some DVDs from pro bodybuilders that I've seen - incredible. There is background music playing the whole time and it is artistic going back from full colour training scenes to black and white posing scenes.
All in all, this is a great DVD. Abbas also has a very charismatic, aggressive, and dominant personality. He would probably do incredibly well in the WWE. He is the type of outspoken person who draws people with his charisma. He's definitely a good public speaker and the possessor of many sound training principles, and knows how to apply and explain them. If you are a fan of bodybuilding videos or want to learn more about high intensity training (HIT), then this DVD is definitely for you. It is made by the same producer who produced Mike Mentzer's HIT DVD (2001).



Running Time: 95 mins

* Available in NTSC DVD Only (Region Free)
* THIS DVD WILL PLAY ON ANY DUAL SYSTEM NTSC / PAL DVD PLAYER AND TV. Or any PC DVD.