Details: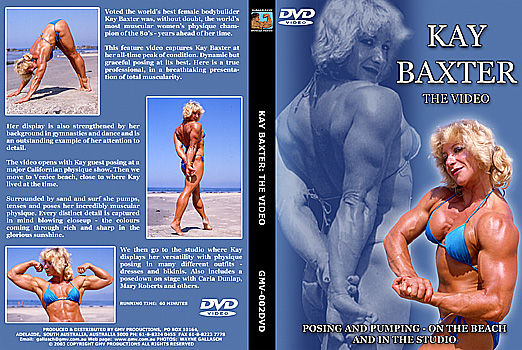 The Kay Baxter DVD
Voted the world's best female bodybuilder Kay Baxter was, without doubt, the world's most muscular women's physique champion of the 80's - years ahead of her time.
This feature video captures Kay Baxter at her all-time peak of condition. Dynamic but graceful posing at its best. Here is a true professional, in a breathtaking presentation of total muscularity. Her display is also strengthened by her background in gymnastics and dance and is an outstanding example of her attention to detail.
Kay weighed in at 135 lbs (62 kg) - an incredibly muscular superwoman. Her many physique show victories included the USA National Physique Championships and Gold's Classic, as she competed in the Ms. Olympia in 1982, 1983, 1984 and 1985.
The video opens with Kay guest posing at a major Californian physique show. Then we move to Venice beach, close to where Kay lived at the time.
Surrounded by sand and surf she pumps, tenses and poses her incredibly muscular physique. Every distinct detail is captured in mind blowing closeup - the colours coming through rich and sharp in the glorious sunshine.
We then go to the studio where Kay displays her versatility with physique posing in many different outfits - dresses and bikinis. Also includes a posedown on stage with Carla Dunlap, Mary Roberts and others.
Running Time: 60 mins

* Available in NTSC DVD Only (Region Free)
* THIS DVD WILL PLAY ON ANY DUAL SYSTEM NTSC / PAL DVD PLAYER AND TV. Or any PC DVD.