Details: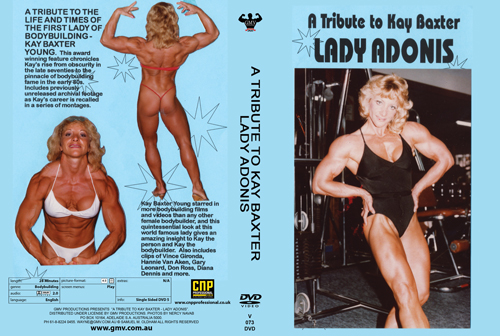 LADY ADONIS – KAY BAXTER
A TRIBUTE TO THE LIFE AND TIMES OF THE FIRST LADY OF BODYBUILDING - KAY BAXTER YOUNG
This award winning feature chronicles Kay's rise from obscurity in the late seventies to the pinnacle of bodybuilding fame in the early 80s. Includes previously unreleased archival footage as Kay's career is recalled and celebrated in a series of montages.
Kay Baxter Young starred in more bodybuilding films and videos than any other female bodybuilder, and this quintessential look at this world famous lady gives an amazing insight to Kay the person and Kay the bodybuilder.
Kay placed 8th in her first Ms. Olympia in 1982 and 16th in 1984, but never considered wavering from her pursuit of maximum muscle. "Someone had to stick her neck out for the cause of muscular women … and I've got no regrets about that... not one", she said. One of her catchphrases was "Get built without guilt".
Kay died in a car crash in LA in 1988 just as her career was moving towards films. She was inducted into the IFBB Hall of Fame in 2001.
The DVD also includes clips of Vince Gironda, Hannie van Aken, Gary Leonard, Don Ross, Diana Dennis and more.
Kay Baxter's Contest history:
1979 US Women's Championship - 1st
1980 NPC Nationals - 4th
1980 NPC USA Championships - 4th
1981 NPC Gold's Classic - 1st
1981 IFBB Grand Prix Montreal - 3rd
1981 IFBB Pro World Championships - 2nd
1982 IFBB Ms. Olympia - 8th
1982 IFBB Pro World Championships - 9th
1983 IFBB Ms. Olympia - 10th
1983 IFBB Pro World Championships - 10th
1984 IFBB Ms. Olympia - did not place
1984 IFBB Pro World Championships - 14th
1985 IFBB Ms. Olympia - 13th
1985 IFBB Pro World Championships - 10th
1986 IFBB Ms. International - 15th
1986 IFBB Los Angeles Pro Championships - 9th

Running Time: 30 mins

* Available in NTSC DVD Only (Region Free)
* THIS DVD WILL PLAY ON ANY DUAL SYSTEM NTSC / PAL DVD PLAYER AND TV. Or any PC DVD.