Details: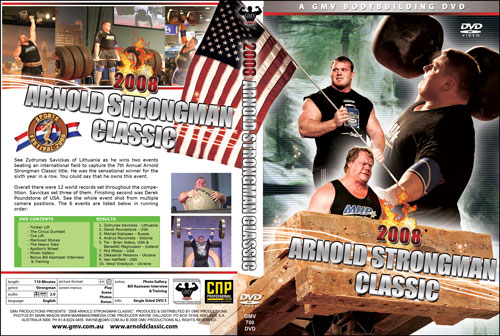 2008 Arnold Strongman Classic



Zydrunas Savickas of Lithuania triumphs again for # 6!
See Zydrunas Savickas of Lithuania as he wins two events beating an international field of 10 champions to capture the 7th Annual Arnold Strongman Classic title. He was the sensational winner for the sixth year in a row. You could say that he owns this event now!
Overall there were 12 world records set throughout the competition. Savickas set three of them. In the Tire Deadlift he lifted 1,027 lbs. In the Circus Dumbbell he tied with Derek Poundstone for the world record with nine lifts each. In the Manhood Stones he lifted 525 lbs. three times. Savickas had won the Arnold Strongman Classic for the previous 5 years and started as the red hot favourite. He is generally considered to be the Strongest Man in the World, at 6'3" and over 400 pounds, the man is a giant of strength. Asked his exact weight this year he said that was classified information!
Finishing second was Derek Poundstone of USA. This was a sensational effort beating USA's World Strongest Man winner Phil Pfister and many other highly credentialed Strongmen. West Virginia's Phil Pfister won the prestigious "World's Strongest Man" competition in 2006 to become the first American to win the title since Bill Kazmaier won in 1982. Pfister, a hulking 6-foot-6, 350-pound former firefighter from Charleston, West Virginia is always one of the most popular Strongmen at the Arnold Strongman Classic. It was an injury that caused World's Strongest Man winner Vasyl Virastyuk to finish in 10th position.
This DVD was shot with multiple cameras. Our special thanks to Live Technologies, Inc. Head Judge was David Webster.

The 6 lifts were as follows and shown in this order:
- Timber Lift
- The Circus Dumbell
- Tire Lift
- Manhood Stones
- The Heavy Yoke
- Apollon's Wheel
RESULTS:
1. Zydrunas Savickas - Lithuania
2. Derek Poundstone - USA
3. Mikhail Koklyaev - Russia
4. Andrus Murumets - Estonia
5. Tie - Brian Siders, USA &
Benedikt Magnusson - Iceland
7. Phil Pfister - USA
8. Oleksandr Pekanov - Ukraine
9. Van Hatfield - USA
10. Vasyl Virastyuk – Ukraine

Here is a description of the 6 lifts courtesy of the Arnoldclassic.com site.

Stongman Events for 2008
1. Timber Lift - In this event, also known as the Farmer's Carry, contestants lift 865 lbs. of barn timbers bolted together. They have 30 sec. to carry the 865 lbs load up a 32 ft. inclined ramp.
2. Manhood Stones - Contestants lift round stones weighing up to 525 pounds over a bar approximately 48 inches high.
3. Apollon's Wheel -This unique barbell was made famous by turn-of-the-century strongman Louis "Apollon" Uni. The barbell resembles two train wheels welded (weights do not rotate) to a thick bar (1.92 inches in diameter) for a total weight of 366 lbs. Contestants will lift the wheels from the floor to overhead as many times as possible in two minutes.
4. Tire Deadlift - Contestants will lift a specially designed 14 foot long bar weighted with tires. Each tire weighs approx. 100 lbs, and the beginning weight will be approx. 750 lbs.
5. The Heavy Yoke - Contestants will carry across their shoulders a bar/yoke weighing 1,116 pounds for approximately 36 feet in a timed event.
6. The Circus Dumbbell - Contestants will lift a replica of a "Circus" dumbbell, which were used by professional Strongmen from the early 20th century. The dumbbell weighs 202 lbs. and has a very big handle which is 3 inches in diameter. The men will use one hand at a time and lift the dumbbell overhead as many times as possible in 90 sec.
Extras:
- Photo Gallery
- Bonus Bill Kazmaier Interview and Training
Photo Gallery by Mark Mason.
All Photos by Mark Mason markmasonmedia.com
DVD sponsor Bodybuilding.com



Running Time: 110 mins

* Available in NTSC DVD Only (Region Free)
* THIS DVD WILL PLAY ON ANY DUAL SYSTEM NTSC / PAL DVD PLAYER AND TV. Or any PC DVD.