Details: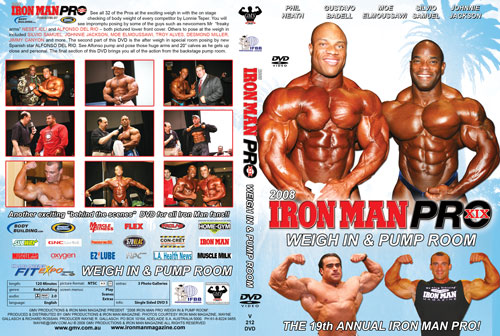 2008 Iron Man Pro - Weigh In and Pump Room

THE WEIGH IN
See all 32 of the Pros at the exciting weigh in with the on stage checking of body weight of every competitor by Lonnie Teper. Lonnie always makes the weigh in a very entertaining and special part of the event.

You will see impromptu posing by some of the guys such as newcomers Mr "freaky arms" NESET ICLI and ALFONSO DEL RIO – both pictured lower front cover. Others to pose at the weigh in included SILVIO SAMUEL, JOHNNIE JACKSON, MOE ELMOUSSAWI, TROY ALVES, DESMOND MILLER, JIMMY CANYON and more.
SPECIAL BONUS FEATURE!
The second part of this DVD is the after weigh in special room posing by new Spanish star ALFONSO DEL RIO. See Alfonso pump and pose those huge 21" arms and 20" calves as he gets up close and personal. This segment is a special bonus feature this year. Our thanks to Dr Richard Rossan and Michael Lenglez for their help.
THE PUMP ROOM
The final section of this DVD brings you all of the action from the backstage pump room. From pumping, tensing and oiling and posing for photos, this popular segment captures all the action from back stage at the LA Convention Center. Special thanks to Wolfi Koellerer of Muscletime.com
This year marked the 19th anniversary of the Iron Man Pro.

Another exciting "behind the scenes" type DVD for all Iron Man fans!!

RUNNING TIMES:
Weigh In 56 mins
Alfonso Del Rio room posing 15 mins
Pump Room 44 mins
Photo Gallery Slide Shows 5 mins
Special Features:
3 Separate Photo Galleries from -
The Weigh In.
Alfonso Del Rio.
The Pump Room.

PHOTOS: COURTESY OF IRON MAN MAGAZINE, RICHARD ROSSAN & WAYNE GALLASCH.
You will see these bodybuilders at the Weigh In -
(Contest Finishing Order)
1. Phil Heath USA
2. Gustavo Badell USA
3. Moe Elmoussawi NZ
4. Silvio Samuel SPAIN
5. Johnnie Jackson USA
6. Desmond Miller USA
7. Eddie Abbew UK
8. Toney Freeman USA
9. Troy Alves USA
10. King Kamali USA
11. Will Harris USA
12. David Henry USA
13. Khalid Almohsinawi HOLLAND
14. JoJo Ntiforo USA
15. Ray Arde USA
16. Alfonso Del Rio SPAIN
DNP
Neset Icli HOLLAND
Paul Baker JAMAICA
Dragan Paunovic SERBIA
Mehmet Yildirim FRANCE
Vincent Liu CANADA
Ken Jones USA
Jimmy Canyon USA
Armin Scholz GERMANY
Gian Enrico Pica ITALY
Sergey Ogorodnikov RUSSIA
Rusty Jeffers USA
Deshaun Grimez USA
Omar Deckard USA
Rodney Davis USA
Troy Brown UK
Nathaniel Wonsley USA

Running Time: 120 mins

* Available in NTSC DVD Only (Region Free)
* THIS DVD WILL PLAY ON ANY DUAL SYSTEM NTSC / PAL DVD PLAYER AND TV. Or any PC DVD.