Details: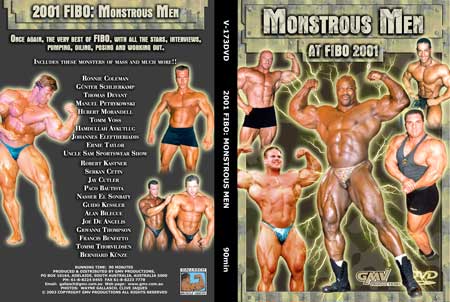 FIBO 2001 Monstrous Men - DVD
Once again, the very best of FIBO, with all the stars, interviews, pumping, oiling, posing and working out.
Includes these monsters of mass and much more!!
Ronnie Coleman
Gunter Schlierkamp
Thomas Devant
Manuel Petrykowski
Hubert Morandell
Tomm Voss
Hamdullah Aykutlug
Johannes Eleftheriadis
Ernie Taylor
Uncle Sam Sportswear Show
Robert Kastner
Serkan Cetin
Jay Cutler
Paco Bautista
Nasser El Sonbaty
Guido Kessler
Alan Bilegue
Joe De Angelis
Giovanni Thompson
Francis Benfatto
Tommi Thorvildsen
Bernhard Kunze

Paco Bautista
Günter Schlierkamp
Ronnie Coleman
Joe De Angelis
Hamdullah Aykutlug
Jay Cutler
Siggi Segers & Tommi Thorvildsen
Johannes Eleftheriadis


Running Time: 95 mins

* Available in NTSC DVD Only (Region Free)
* THIS DVD WILL PLAY ON ANY DUAL SYSTEM NTSC / PAL DVD PLAYER AND TV. Or any PC DVD.