Details: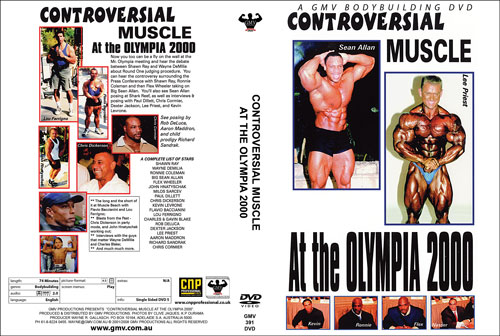 2000 Mr. Olympia: Controversial Muscle!

This DVD has a real "edge" to it and is completely different to anything we have ever offered before. If you like a little controversy, this DVD is for you!

Now you too can be a fly on the wall at the Mr. Olympia athlete's meeting and hear the heated debate between Shawn Ray and Wayne DeMilia about the Round One judging procedure.

You can hear the controversy surrounding the Press Conference with Shawn Ray, Ronnie Coleman and then Flex Wheeler taking on Big Sean Allan.
You'll also see Sean Allan posing for us at Shark Reef, as well as interviews and posing with Paul Dillett, Chris Cormier, Dexter Jackson, Lee Priest and Kevin Levrone.
See posing by Rob DeLuca, Aaron Maddron, and muscular child prodigy Richard Sandrak. Richard's story was featured on TV.
A COMPLETE LIST OF STARS IN THIS DVD.

SHAWN RAY
WAYNE DEMILIA
RONNIE COLEMAN
BIG SEAN ALLAN
FLEX WHEELER
JOHN HNATYSCHAK
MILOS SARCEV
PAUL DILLETT
CHRIS DICKERSON
KEVIN LEVRONE
FLAVIO BACCIANINI
LOU FERRIGNO
CHARLES & GAVIN BLAKE
ROB DELUCA
DEXTER JACKSON
LEE PRIEST
AARON MADDRON
RICHARD SANDRAK
CHRIS CORMIER
OTHER HIGHLIGHTS INCLUDE:

** The long and the short of it at Muscle Beach with Flavio Baccianini and Lou Ferrigno;
** Blasts from the Past - Chris Dickerson in party mode, and John Hnatyschak working out;
** Interviews with the guys that matter Wayne DeMilia and Charles Blake;
** And much much more.

Final 2000 Mr Olympia Placings:
1st Ronnie Coleman
2nd Kevin Levrone
3rd Flex Wheeler
4th Shawn Ray
5th Nasser El Sonbaty
6th Lee Priest
7th Markus Rühl
8th Jay Cutler
9th Dexter Jackson
10th Orville Burke
11th Dennis James
12th Günter Schlierkamp
13th Oleg Zhur

Running time: 74 mins

* Available in NTSC DVD Only (Region Free)
* THIS DVD WILL PLAY ON ANY DUAL SYSTEM NTSC / PAL DVD PLAYER AND TV.