Details: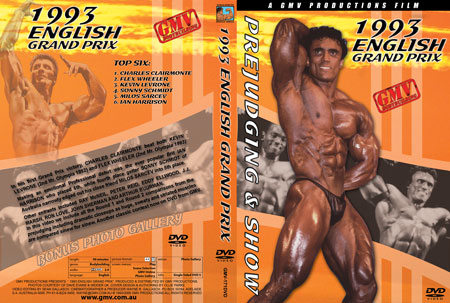 1993 English Grand Prix

IN THIRD PLACE... KEVIN LEVRONE, U.S.A.
IN SECOND PLACE... FLEX WHEELER, U.S.A.
AND THE WINNER IS......
CHARLES CLAIRMONTE, England/Barbados
THE FASTEST RISING STAR ON THE IFBB CIRCUIT IS CHARLES CLAIRMONTE - IT HAS EVEN BEEN SAID THAT HE WILL BE A SERIOUS CONTENDER FOR THE 1994 MR. OLYMPIA. WILL SHAPE AND ELEGANCE WIN OUT OVER MUSCULAR BULK? WHAT DO YOU THINK?
In his first Grand Prix victory, Charles has beaten both Kevin Levrone (2nd Mr. Olympia 1992) and Flex Wheeler (2nd Mr. Olympia 1993) and the only way is... UP!
Making an emotional Professional debut was the ever popular Brit IAN HARRISON who placed 6th, while fourth place getter SONNY SCHMIDT of Australia narrowly edged out his close friend MILOS SARCEV into 5th place.
Other entrants included RAY McNEIL, PETER REID, EDDY ELLWOOD, J.J. MARSH, RON LOVE, JOHN SHERMAN AND ARTHUR BUURMAN.
In this video we include all the Round 1 and Round 2 comparisons from the prejudging including dramatic closeups as huge, sweaty and striated muscles are compared sinew for sinew.
Click here to see Charles Clairmonte – Amateur and Professional Mr. Universe: PCB-046DVD
Click here to see Charles Clairmonte - A Profile: Workout & Posing: PCB-180DVD

Special Features:

Photo Gallery
Complete Results:
1993 IFBB English Grand Prix
Nottingham
1 Charles Clairmonte
2 Ken (Flex) Wheeler
3 Kevin Levrone
4 Sonny Schmidt
5 Milos Sarcev
6 Ian Harrison
7 J J Marsh
8 Ray McNeil
9 Ron Love
10 Peter Reid
11 Eddy Ellwood
12 John Sherman
13 Arthur Buurman

Running time: 90 mins

* Available in NTSC DVD Only (Region Free)
* THIS DVD WILL PLAY ON ANY DUAL SYSTEM NTSC / PAL DVD PLAYER AND TV. Or any PC DVD.