Details: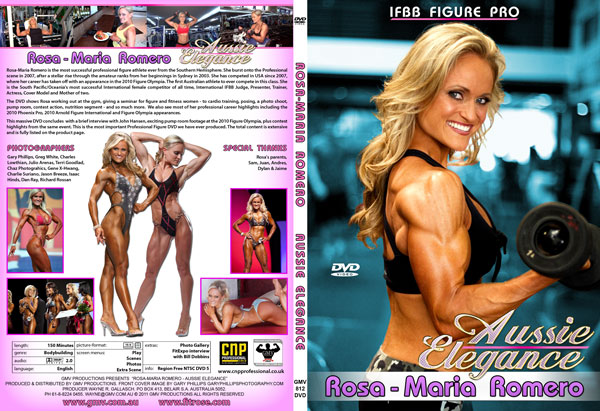 Rosa-Maria Romero - Aussie Elegance - IFBB Figure Professional
Rosa-Maria Romero is the most successful professional figure athlete ever from the Southern Hemisphere. She burst onto the Professional scene in 2007, after a stellar rise through the amateur ranks from her beginnings in Sydney in 2003. She has competed in USA since 2007, where her career has taken off including an appearance in the 2010 Figure Olympia. The first Australian athlete to ever compete in this class.


She is the South Pacific/Oceania's most successful International female competitor of all time, International IFBB Judge, Presenter, Trainer, Actress, Cover Model and Mother of two. This DVD is a blueprint for every woman who aspires to have a great body, or to compete in Figure, Fitness or Bikini Class competition.
The DVD showcases Rosa from her gym training, to giving a seminar for figure and fitness women to cardio training, posing, photo shoot, pump room, dining out, contest action - and so much more. We are taken through a workout in her regular Sydney gym, and see most of her professional career highlights including the 2010 Phoenix Pro and 2010 Arnold Figure International.


This massive DVD concludes with a brief interview with John Hansen, exciting pump room footage at the 2010 Figure Olympia, plus contest action from the same event. See photo above where Rosa is standing next to Erin Stern (right) as she is being announced Figure Olympia winner for 2010.
This is the most important Professional Figure DVD we have ever produced. The total content is extensive and is fully listed below.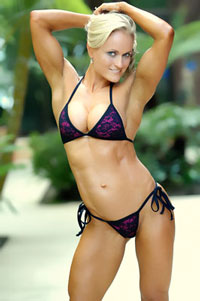 DVD Contents:
INTRO
SHOULDERS
BICEPS
TRICEPS
2010 PHOENIX PRO FIGURE
LUNCH & MORE
PRIVATE LESSON
CARDIO
SYDNEY SEMINAR
2010 ARNOLD FIGURE INTERNATIONAL
POSING PRACTICE
BACK
ABDOMINALS
FAMILY TIME
DINING OUT
2010 MEET THE OLYMPIANS
JOHN HANSEN INTERVIEW AT THE 2010 OLYMPIA
2010 OLYMPIA PREJUDGING
2010 OLYMPIA PUMP ROOM
2010 OLYMPIA FINALS
PLANET MUSCLE PHOTO SHOOT
TEDDY MARTY BACKSTAGE INTERVIEW
CREDITS
Extra Scenes:

Massive Photo Gallery (Contest, gym & glamour)
LA FitExpo interview with Bill Dobbins



Running Time: 155 mins

* Available in NTSC DVD Only (Region Free)
* THIS DVD WILL PLAY ON ANY DUAL SYSTEM NTSC / PAL DVD PLAYER AND TV. Or any PC DVD.