Details: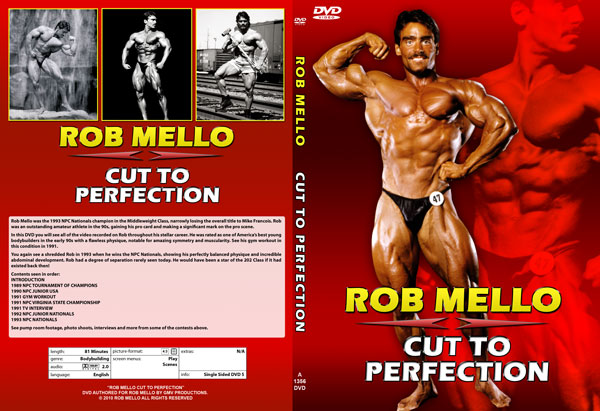 ROB MELLO – Cut to Perfection
Rob Mello was the 1993 NPC Nationals champion in the Middleweight Class, narrowly losing the overall title to Mike Francois. Rob was an outstanding amateur athlete in the 90s, gaining his pro card and making a significant mark on the pro scene.
In this DVD you will see all of the video recorded on Rob throughout his stellar career. He was rated as one of America's best young bodybuilders in the early 90s with a flawless physique, notable for amazing symmetry and muscularity. See his gym workout in this condition in 1991.
You again see a shredded Rob in 1993 when he wins the NPC Nationals, showing his perfectly balanced physique and incredible abdominal development. Rob had a degree of separation rarely seen today. He would have been a star of the 202 Class if it had existed back then!
Contents seen in order:
OPENING
INTRODUCTION
1989 NPC T.O.C.
1990 NPC JUNIOR USA
1991 GYM WORKOUT
1991 NPC VIRGINIA STATE
1991 TV INTERVIEW
1992 NPC JUNIOR NATIONALS
1993 NPC NATIONALS
See pump room footage, photo shoots, interviews and more from some of the contests above.



Running Time: 85 mins

* Available in NTSC DVD Only (Region Free)
* THIS DVD WILL PLAY ON ANY DUAL SYSTEM NTSC / PAL DVD PLAYER AND TV. Or any PC DVD.