Details: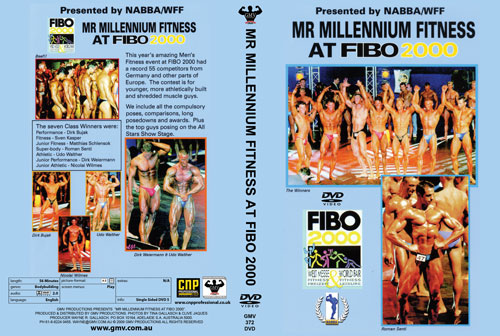 2000 NABBA/WFF Mr. Millennium Fitness at FIBO 2000
The amazing WFF Men's Fitness event at FIBO 2000 had a record 55 competitors from Germany and many other parts of Europe.

The contest is primarily for younger NOVICE TYPE BODYBUILDERS, more athletically built, lean and shredded muscle guys. We include all the compulsory poses, hard fought comparisons, long posedowns and awards.

See all of the the top placed guys posing on the massive "All Stars" Show Stage in front of 5000 excited FIBO fans. Only the winners in each category were announced. All photos below by Tina Gallasch and Clive Jaques, copyright GMV Productions.

The seven Class Winners were:

Performance - Dirk Bujak
Fitness - Sven Kasper
Junior Fitness - Matthias Schlensok
Super-body - Roman Senti
Athletic - Udo Walther
Junior Performance - Dirk Weiermann
Junior Athletic - Nicolai Wilmes

Other competitors were:
Gino Jihad Ayad
Rene Becker
Horst Bedner
Knut Bonnaire
Dominik Burgel
Stephan Deininger
Paul Delatron
Thomas Ehlert
Thomas Ehms
Andreas Filz
Jurgen Geisser
Gerhard Grimm
Simon Gross
Patrick Heisel
Alexander Hess
Robert Hoffmann
Rainer Hofmann
Kalid Mohseni
Wolfgang Iben
Andre Jentzsch
Thomas Klose
Lars Konkoll
Ingolf Launus
Harald Lehmann
Christian Marza
Ralf Maus
Peter Mayr
Gabriel Morrone
Wolfgang Muhltaler
Sascha Muhle
Jorg Munz
David Okundia
Sascha Plasa
Bernd Preissner
David Rade
Daniel Rekowski
Bernd Robitschko
Christian Ross
Thomas Rupp
Frank Sailer
Gianpaolo Sgambati
Markus Thiele
Falk Wosch
Gintaras Bukauskas
Pascal Rueff

Running Time: 60 mins

* Available in NTSC DVD Only (Region Free)
* THIS DVD WILL PLAY ON ANY DUAL SYSTEM NTSC / PAL DVD PLAYER AND TV. Or any PC DVD.