Details: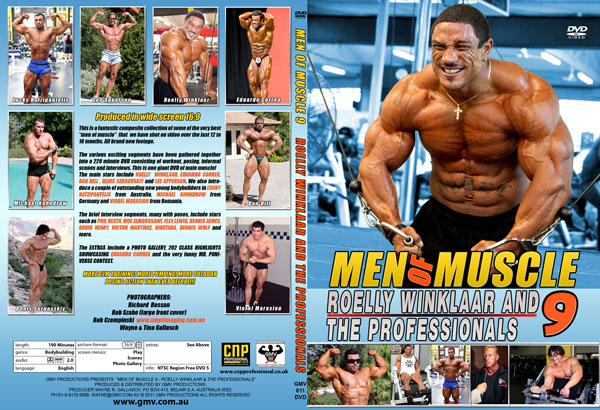 MEN OF MUSCLE # 9 – ROELLY WINKLAAR & THE PROFESSIONALS
Produced in widescreen 16:9
MORE GYM TRAINING! MORE PUMPING! MORE OUTDOOR POSING ACTION THAN EVER BEFORE!!!
This is a fantastic composite collection of some of the very best "men of muscle" that we have shot on video over the last 12 to 18 months.
All brand new footage.
The various exciting segments have been gathered together into a 190 minute DVD consisting of workout, posing, informal scenes and interviews. This is one giant DVD of male muscle!
The main stars include ROELLY WINKLAAR, EDUARDO CORREA, DAN HILL, DENIS SERGOVSKIY and LEE APPERSON.
We also introduce a couple of outstanding new young amateur bodybuilders in LUCKY HATZIPANTELIS from Australia, MICHAEL KOHNDROW from Germany and VIOREL MARASIOU from Romania.
The brief interview segments, many with poses, include stars such as PHIL HEATH, MOE ELMOUSSAWI, FLEX LEWIS, DENNIS JAMES, DAVID HENRY, VICTOR MARTINEZ, HIDETADA YAMAGISHI, DENNIS WOLF and more.
THE EXTRAS:
PHOTO GALLERY:
202 CLASS HIGHLIGHTS FROM 2010 SHOWCASING EDUARDO CORREA
MR. PUNIVERSE CONTEST
Notes on DVD Content:
See DENIS SERGOVSKIY go through his workout at Gold's Gym in Las Vegas with video training partner VIOREL MARASIOU. Plus solo and duo posing routines at the end of their workout.
The scene then shifts to a photo shoot with DENIS SERGOVSKIY at Red Rock Canyon near Las Vegas. We got some amazing video of this shoot.
A shredded LEE APPERSON poses poolside in Las Vegas.
DAN HILL poses in the hot Las Vegas sunshine, and explains the long and exciting journey he went through in producing his DVD with us.
Poolside posing with Dan's friend - up and coming junior from Germany, MICHAEL KOHNDROW.
EDUARDO CORREA pumps and poses poolside for us on the day after the 2010 Olympia. He has amazing vascularity, size and muscularity.
MR. PUNIVERSE - a fun contest to pick the puniest, most skinny, pathetic physique on the planet!

Informal "news type footage" in Tony Doherty's Gym - the day after the 2010 Australian Grand Prix:
ROELLY WINKLAAR pumps and poses for a photo shoot.
LUCKY HATZIPANTELIS pumps and poses, both for the photo shoots but also for our cameras. He won the amateur contest the day before.
Brief Interviews - See the following stars:
PHIL HEATH
VICTOR MARTINEZ
DENNIS JAMES
SILVIO SAMUEL
DAVID HENRY
TROY ALVES
FLEX LEWIS
MOE ELMOUSSAWI
DENNIS WOLF
HIDETADA YAMAGISHI
MELVIN ANTHONY
DARYL GEE
MARTIN KJELLSTROM
LEE POWELL
Front Cover: Large image of Roelly Winklaar by Rob Szabo.
Photographers:
Richard Rossan
Rob Szabo
Rob Czempinski
Wayne & Tina Gallasch
Boris Ivanov


Running Time: 195 mins

* Available in NTSC DVD Only (Region Free)
* THIS DVD WILL PLAY ON ANY DUAL SYSTEM NTSC / PAL DVD PLAYER AND TV. Or any PC DVD.