Details: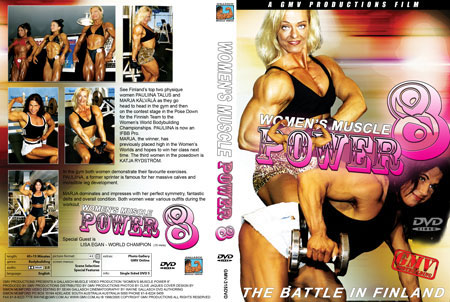 Women's Muscle Power # 8 - The Battle in Finland
See Finland's top two physique women PAULIINA TALUS and MARJA KÄLVÄLÄ as they go head to head in the gym and then on the contest stage in the Pose Down for the Finnish Team to the Women's World Bodybuilding Championships. PAULIINA who placed 2nd is now an IFBB Pro. MARJA, the winner, has previously placed high in the Women's Worlds and hopes to win her class next time. The third placed woman in the posedown is KATJA RYDSTRÖM.

In the hard core gym workout both women demonstrate their favourite exercises. PAULIINA, a former sprinter is famous for her massive calves and incredible leg development. MARJA dominates and impresses with her perfect symmetry, fantastic delts and overall condition. This is the only women's DVD we ever shot in Finland.
Both women wear various colourful and sexy outfits during the workout. (45 mins)
Special Guest Segment is LISA EGAN - WORLD BODYBUILDING CHAMPION from Australia. (15 mins)
DVD includes a Photo Gallery.



Running Time: 65 mins

* Available in NTSC DVD Only (Region Free)
* THIS DVD WILL PLAY ON ANY DUAL SYSTEM NTSC / PAL DVD PLAYER AND TV. Or any PC DVD.